GAME INFORMATION
These details are CRITICAL; DO NOT skip them or your issue may not be reviewed.
GAME BUILD

#:

(edit: where do I find the build?)
GAME PLATFORM: Steam
OPERATING SYSTEM: Windows 10
ISSUE EXPERIENCED
DESCRIBE THE ISSUE IN DETAIL (below). LIMIT TO ONE BUG PER THREAD.
(happens on both my computers) I main the United States at the moment so I play them practically exclusively recently. As the title suggests, every time I close the game with US as the displayed homecity the next time I boot up AoE3DE, the home city is some random civ that isn't the US. This happens only with US, all other homecities stay whenever opening the game.
Usually I don't mind because it is just the main screen, except it isn't. It is also the civ auto-selected when you lobby up for a match, having to change my civ to US every time I open the game (which is every match since I found that restarting the game for every match reduces the chance for lag/crashes/disconnects considerably).
It may just be my computers or steam account (I looked for a thread talking about this before posting and didn't find anything about this issue).
It has caused me to play some matches with the wrong civ when I wasn't paying enough attention.
FREQUENCY OF ISSUE
How often does the issue occur? CHOSE ONE; DELETE THE REST!
100% of the time / matches I play (ALWAYS)
REPRODUCTION STEPS
List CLEAR and DETAILED STEPS we can take to reproduce the issue ourselves… Be descriptive!
Here's the steps to reproduce the issue:
Set homecity as United States
Close the game / Reopen the game
…
Profit (not really)
EXPECTED RESULT
What was SUPPOSED to happen if the bug you encountered were not present?
I can boot up the game and have United States as my default homecity, not having to change it every start up.
IMAGE
ALWAYS attach a PICTURE (.jpg, .png, .gif) or VIDEO (.mp4, YouTube link) that highlights the problem.
Image of what I see when starting the game after playing as United States (random, this time Portugal)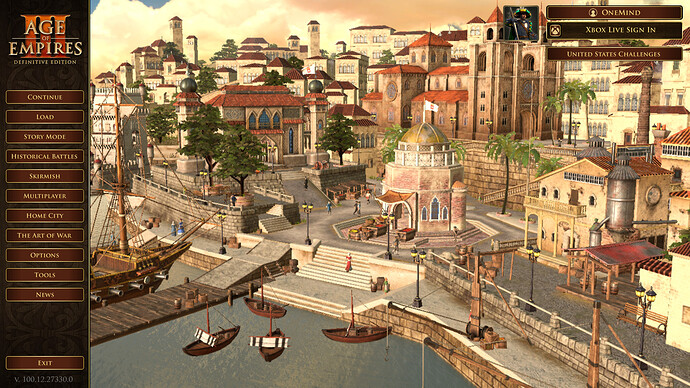 GAME FILES (SAVE / RECORDING)
Attach a SAVE GAME (.aoe3Ysav) or GAME RECORDING (.aoe3Yrec) of the match where you encountered the issue. Link it below if using an external file service.