GAME INFORMATION
These details are CRITICAL; DO NOT skip them or your issue may not be reviewed.
**GAME BUILD

#:100

.12.24632.0
GAME PLATFORM: Steam
OPERATING SYSTEM: Windows 10
ISSUE EXPERIENCED
The United States AI will never use the military wagon that it gets from aging up to Commerce Age. It will spend wood to build military buildings, but leave the wagon at the TC throughout the whole game. This happens on any map I play.
FREQUENCY OF ISSUE
100% of the time / matches I play (ALWAYS)
REPRODUCTION STEPS
List CLEAR and DETAILED STEPS we can take to reproduce the issue ourselves… Be descriptive!
Here's the steps to reproduce the issue:
Play against the US AI on hardest.
Let AI advance to commerce age using a state that grants a military wagon
Observe that the AI never uses the wagon, but will build several military buildings completely ignoring that the wagon exists.
EXPECTED RESULT
The military wagon should be used to build a military building.
IMAGE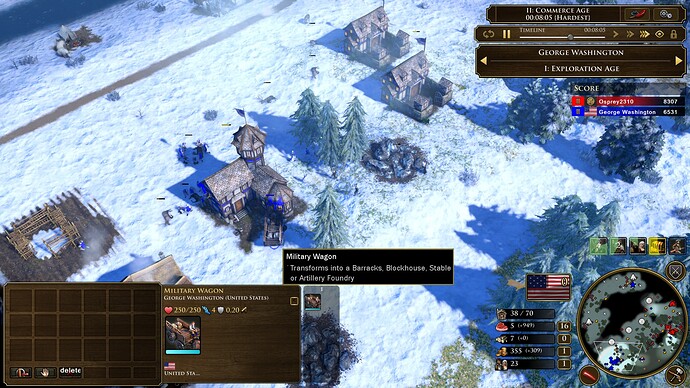 Note that the US has built two barracks here, but the military wagon is still unused.
GAME FILES (SAVE / RECORDING)
Attach a SAVE GAME (.aoe3Ysav) or GAME RECORDING (.aoe3Yrec) of the match where you encountered the issue. Link it below if using an external file service.