GAME INFORMATION
These details are CRITICAL; DO NOT skip them or your issue may not be reviewed.
**GAME BUILD

#:101

.101.50700.0 7006804
GAME PLATFORM: Steam
OPERATING SYSTEM: Windows 10
ISSUE EXPERIENCED
DESCRIBE THE ISSUE IN DETAIL (below). LIMIT TO ONE BUG PER THREAD.
In an attempt to familiarise myself with the map "Volcanic Island", I decided to generate some maps in the Single Player mode to figure out how to best play it. I used cheat codes "marco" and "polo" to see the entire map, that way I could really look into what could be viable or not.
I paused the game immediately to look around, and noticed that my deer patch spawned next to my opponent's(an AI) deer patch, essentially giving them 8 deer while I had none.
FREQUENCY OF ISSUE
How often does the issue occur? CHOSE ONE; DELETE THE REST!
I have generated the map 20 times, to see if it would happen again. I did not.
Less than 25% of the time / matches I play (RARELY)
REPRODUCTION STEPS
List CLEAR and DETAILED STEPS we can take to reproduce the issue ourselves… Be descriptive!
Here's the steps to reproduce the issue:
Go to single player
Start a 1v1 vs an AI on Volcanic Island
Pause game on start
Use cheat codes "marco" and "polo" to see the whole map
Check the deer locations
EXPECTED RESULT
What was SUPPOSED to happen if the bug you encountered were not present?
The deer being equally split between players, spawning reasonably close to whoever the deer patch "belongs" to.
IMAGE
ALWAYS attach a PICTURE (.jpg, .png, .gif) or VIDEO (.mp4, YouTube link) that highlights the problem.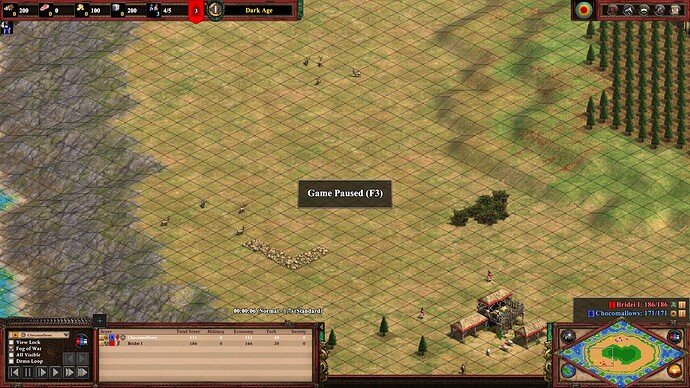 GAME FILES (SAVE / RECORDING)
Attach a SAVE GAME (.aoe2spgame) or GAME RECORDING (.aoe2record) of the match where you encountered the issue. Link it below if using an external file service.
I tried uploading the recording file, but it says "New users cannot upload attachments"…
*