To help each other? Why should we? The devs got all figured out and instead of passing it on to the community how to do stuff, they leave us in the dark. Sure basic stuff can be found on the internet since that hasn't changed but most here used Google before making these threads.
There is so much hardcoded stuff in this game that I would like to change like Class and Interface behavior because I literally can't make another Unit next to a villager that builds custom buildings.
Nobody knows anything about it and the only people that would know are nowhere to be seen, don't interact with the community, and just do their thing. So glad I didn't buy any DLC's
Anyway, maybe this thread is different, you can always prove me otherwise:
Why on earth, don't buildings show up, I gave a specific Unit (any but "Builder") a Building, by setting the train location of the building to said unit. I enabled the building, partly even set the "Available" tag in AGE and it doesn't show up. Why is the Interface Hardcoded and not depending on Task (and the addition of Task Location) and what Units/Buildings an Object has been assigned as Train Location.?
Sure those preset are nice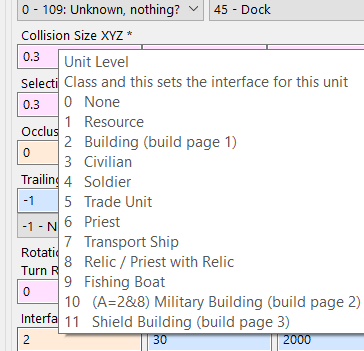 But there should be a Generic Interface that orders depending on Task Location and Trainlocation
For instance:
I have 3 unique buildings that I want to give…idk a monk
Train Location of these 3 buildings are monk with Train Button 6,7 and 8
Tasks I have Repair with the not yet existent "Task Location Field" of 3 (so after convert/heal the repair button shows up)
Build Task has a Task Location of -1 because the Train Location handles it.
In short:
How can I make other units build any building other than the "Builder" Villager.
All interfaces overwrite Train Locations and all Interfaces don't work.