Mongudai moves more slowly than Knight unexpectedly…It's really strange.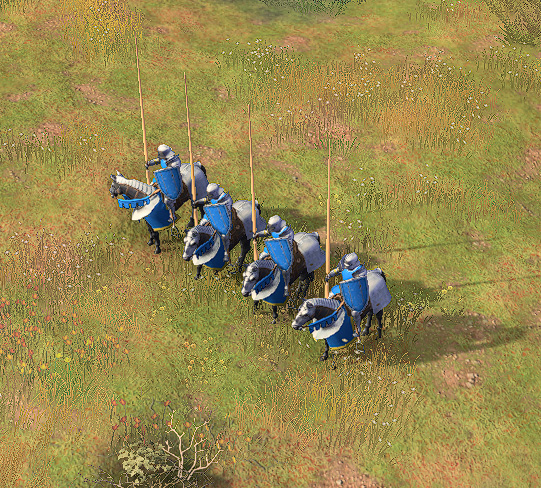 It's balance reason, Mangudai used to #### ## every type of melee cavalry too hard before. In the early of the game, even with Horseman who run faster than the Mangudai, you still can't effectively run them down. The only way to defend against them was to build wall and lots of outposts/castles.
for a difference of 1.5 to 1.6 so much complaint is due! the rider is faster and yet he will never beat the mangudai, he will laugh at you moving and attacking, therefore the only counter is the archer but only with equal resources.
Yep, Historically, Mangudais are meant to counter all types of melee units whether it is an infantry or a knight.
Knights were much easier targets for horse archers as the horse bardling got lots of weak areas.
Therefore, the hit probability was higher and when the knight's horse was hit, the knight would be dismounted or killed by his own horse.
Nothing was wrong with the mangudai, it was fine, but the devs nerfed it too much and now it is a trash unit!
No one really uses it.
I also hate this unit for being a weak useless expensive unique unit.
And the current mangudai in AOE4 is not even inspired by history.
AOE2's Mangudai is a much better depiction.
currently the mangudai speed nerf is to much, while some might say its negligable.
Theres nothing a Mangudai can't do, that HorseArchers/CamelArcher does better in the hands of someone who knows how to micro them.
Consider Camel Archers are even faster than most cav, they can essentially "fire-on-the-move", and still outrun/catch up enemies. especially with the pup changes and achange to their windup time.
And then you have horse archers which just cost a fraction of a mangudai, is better in everyway except for being able to fire on the move.
But with the new Pup changes, even better, now that they have Longbowman range and ability of even greater mobility.
Which leaves us back to mangudai. With niether movement speed, range or damage. Only thing it got is fire-on-the-move that requires less Microing.
and btw, fire-on-the-move micro is pretty easy to learn.
Yes, mangudai can do great trave-caravan and villager raiding unattended if you got the numbers.
But they aren't usefull in a fight due to their increadible low damage and healthpool, they are way to expensive in comparison to Knights/Keshiks/Horsemen that can pretty much do the same job, but also burn down buildings to obtain bounty ontop of it all.
I say, if they want to keep the mangudai at its current state, then at the very least reduce their cost to Rus-Horse archer lvl of cost. Then they might actually be viable as you can get them in greater numbers, they don't eat up your econ, allowing you still go for the food and gold intensive unit such as knights/keshiks at the side.
Also, Mangudai at its current state is just outperformed by the mongol archer.
if you need a mobile range unit, Archers do just fine and cost only a fraction of the mangudai. Due to yam, or khan.
Feels like the only way to stop them I feel like sometimes