Arquebusiers were a major part of European pike and shot formations of the early modern period, yet their inclusion in the game is limited to only the Chinese Arquebusier and the poorly themed Royal Arquebusier.
In the European unit rosters Arquebusiers would have to vie for a place between Crossbowmen and Skirmishers but I think there are several places where its inclusion makes sense. The Swedes, Dutch, and Spanish were masters of pike and shot warfare and could all fit Arquebusiers into their armies.
Function
Arquebusiers should be an attractive unit in ages 2 and 3, but they should lag behind Skirmishers after age 4. This could be achieved by making them cost 2 population, but have stats that aren't quite as good as 2 Skirmishers. Arquebusiers were also relatively easy to train and equip, and making them a more powerful 2 population unit would mean you get more power out of each batch compared to Crossbowmen and Skirmishers.
They use primitive guns so they should also lack the rifle infantry tag and not benefit from Counter Infantry Rifling to further incentivize transitioning to Skirmishers. To compensate for this, they could have a slightly higher multiplier against light cavalry like the Chinese Arquebusier. To further differentiate them from Skirmishers, they should have lower range and could have an animation of priming their guns to slightly slow down their attack rate.
Arquebusiers were most effectively used in pike and shot warfare so they should be weak to heavy cavalry to incentivize pairing them with Pikemen. They should also cost gold to help them be produced in conjunction with Pikemen and allow them to be added to the Dutch unit roster with minimal impact.
The stats and cost of Arquebusiers could be something like what's depicted below: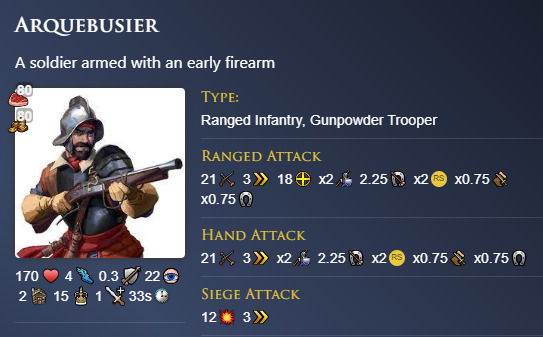 If your only issue is nitpicking these specific numbers, please feel free to suggest what you think are balanced numbers instead.
Swedes
Fitting Arquebusiers into Sweden's roster would be very easy. Sweden was intended to not have a standard light infantry unit and they were only begrudgingly given access to Crossbowmen. Arquebusiers could simply replace Crossbowmen in their roster to act as the light infantry that's still not quite as good as Skirmishers. It would also thematically make sense as the period when Sweden started to come to prominence was the 30 years war when arquebusiers were common.
Dutch
The early Skirmishers of the Dutch could be replaced by Arquebusiers as this is essentially what these early Skirmishers are supposed to represent. The Dutch were prolific users of the arquebus; so much so that the term originates from the Dutch word haakbus.
Spanish
Arquebusiers could be given to Spain via the famed pike and shot formations of the Tercios. This could exist as a Tercio Army trained as a group like the Chinese banner armies. The army composition should consist of 4 Pikemen and 2 Arquebusiers. With Arquebusiers being a 2 population unit, they would represent half the power of the army while maintaining the ⅓ ratio. Being accessible only through a Tercio army would also lessen the competition with Spanish Crossbows.
Chinese
To accommodate a new European Arquebusier, the Chinese Arquebusier could be renamed something like Jingal, Jiaozhi Arquebus, or Shenjiying.
Other
There's a case to be made for Portugal having Arquebusiers since they introduced them to many places such as Japan. However, they already have strong Crossbowmen and Cassadors so their unit roster would be very crowded with them. The Cannoneer mercenary also already represents the Portuguese gunners employed across Africa and Asia.
There is also a strong tradition of arquebus use in Southeast Asia that predates the arrival of Europeans in the area. Weapons like the Java Arquebus deserve to be their own unique units if we ever get civilizations like the Javanese.
Other civilizations could obtain Arquebusiers through shipments and age ups. Spain could get them from the Adventurer politician, and Sweden could get them from the Marksman politician.
Depiction
Arquebusiers should be depicted with a bandolier of powder charges as seen below:
Arquebusiers could look similar to this mod's Musketeers reskin, but without the bayonet and a different hat and pose.