GAME INFORMATION
**GAME BUILD >>Latest<<
GAME PLATFORM: Steam
OPERATING SYSTEM: Windows 10
ISSUE EXPERIENCED
A running process may be interfering with the correct operation of AoE2 DE.
This message pops-up everytime at game launch, mostly during the intro video.
I bought the game some months ago and have been able to play exactly ZERO SECONDS, because of this. All options of the game are greyed out and I cannot even play single player.
I have Avast AV and of course I HAVE ADDED EXCEPTIONS TO THE GAME AND FOLDER and it didn't solved the issue, please skip telling me this.
I have stopped all non-essential processes before running the game and it didn't help.
FREQUENCY OF ISSUE

How often does the issue occur? CHOSE ONE; DELETE THE REST!
100% of the time / matches I play (ALWAYS)
REPRODUCTION STEPS

List CLEAR and DETAILED STEPS we can take to reproduce the issue ourselves… Be descriptive!
Here's the steps to reproduce the issue:
Open the game…
???
PROFIT
EXPECTED RESULT

What was SUPPOSED to happen if the bug you encountered were not present?
PLAY THE GAME
IMAGE

ALWAYS attach a PICTURE (.jpg, .png, .gif) or VIDEO (.mp4, YouTube link) that highlights the problem.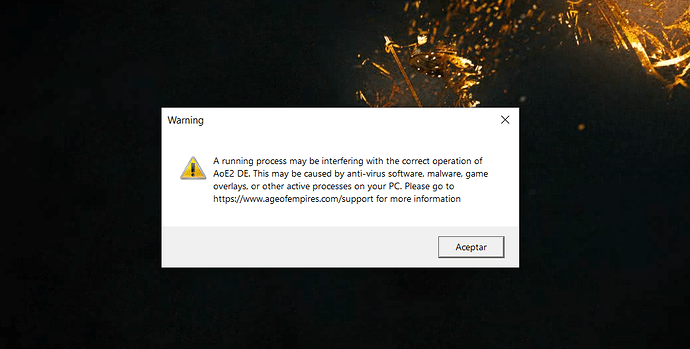 GAME FILES (SAVE / RECORDING)

Attach a SAVE GAME (.aoe2spgame) or GAME RECORDING (.aoe2record) of the match where you encountered the issue. Link it below if using an external file service.
*NO SAVE FILES POSSIBLE