Aoe2 at it's core has always been amazing. The majority of problems people talk about these days I feel are superficial to the core of the game (bugs, match making system, civ picking, position picking, forced maps, smurfs). Except Hills.
Visually, they've been badly designed from the very start. You struggle to see holes in them, buildings that look like their touching aren't. Placing eco buildings on hills with stones, golds, berries and sometimes even woodlines is a nuisance. Quick walling or sometimes even just small walling is so much of a pain that sometimes pros prefer to just abandon the resources. In addition to that it's very hard to estimate range on hills (esp big hills like on gold pot or Acropolis). The following 2 pictures show the range (roughly) of an SO on flat ground vs on some exaggerated hills: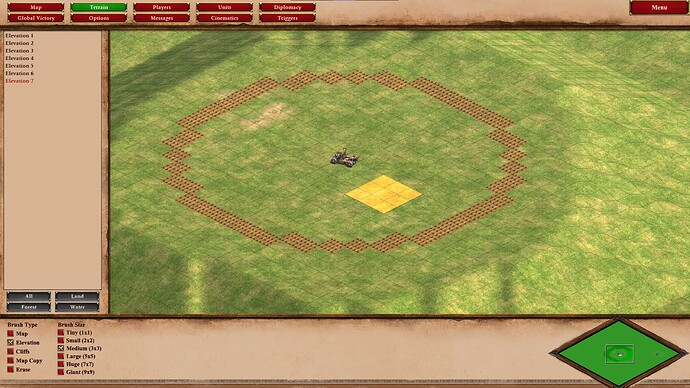 My proposal is introducing a toggle that allows you to see the map fully flat, that way you can toggle to build what you need to build or fight with ranged units on big hills and toggle back to play the rest of the game. Maybe there could even be alternative indicators of elevation you could toggle to. Below is an example I got from Wii Sports golf (I don't know other examples 11)
Now obviously the above example isn't visually suitable for aoe2, maybe arrows could be used to indicate elevation or maybe just different terrains. Either way I'm confident they can come up with a suitable visual design.
What do you guys think?