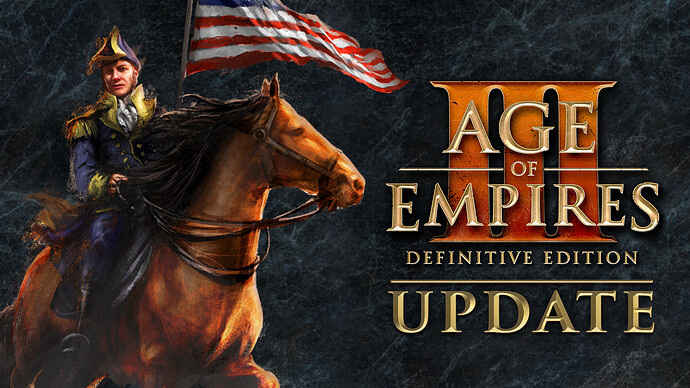 Age of Empires III: DE — Update 23511
Hail, explorers! WELCOME to a truly monumental week for Age of Empires and, in particular, Age of Empires III: Definitive Edition! That's because today, we're releasing a new contender to join the fight for DE supremacy: the UNITED STATES!
On top of all the changes, features, and improvements coming with today's build, the United States introduces a brand-new play style, a wide variety of strategic options and tactical tools for you to learn and master, and new armies to conquer the battlefield. With numerous unique units, unique buildings, unique cards, and a unique way to advance from Age to Age, the U.S. brings a ton of new functionality the game. Even better: if you don't want to purchase and play with the civilization right away, you can unlock it for FREE by completing a set of challenges while exploring the history of all 50 states in the union!
Check out the full notes, below!


Age of Empires III: DE — Hotfix 24632
Today's small update brings with it a handful of fixes for issues that led to a sub-optimal experience. The team continues to focus on improvements to the game based on feedback and issues identified by the community, so please keep sharing your voice with us on topics that you're passionate about with us on the official forums or Steam discussions.
LEARN MORE…
Enjoy!