GAME INFORMATION
These details are CRITICAL; DO NOT skip them or your issue may not be reviewed.
**GAME BUILD

#:

**54545
GAME PLATFORM: Steam
OPERATING SYSTEM: Windows 10
ISSUE EXPERIENCED
DESCRIBE THE ISSUE IN DETAIL (below). LIMIT TO ONE BUG PER THREAD.
At some point in the lategame, the AI puts troops in boats and then doesn't do anything with said troops. They stay in the boat forever after. If you ask the AI ally to attack, they'll give a sad response along the lines of "I'm sorry. Me no have troops." See picture: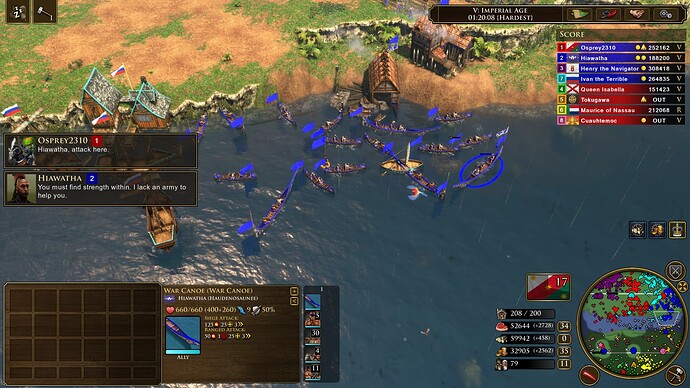 All my allies did this. It seems to be a pathing problem - the ally does this typically when there are a lot of ships in the water. Once it happens, it usually stays like this for the entire game.
FREQUENCY OF ISSUE
How often does the issue occur? CHOSE ONE; DELETE THE REST!
In the lategame on naval maps, always.
REPRODUCTION STEPS
List CLEAR and DETAILED STEPS we can take to reproduce the issue ourselves… Be descriptive!
Here's the steps to reproduce the issue:
Have AI allies on naval maps where you must transport troops across water
Towards the lategame allies will stop transporting units and keep troops inside boats.
EXPECTED RESULT
What was SUPPOSED to happen if the bug you encountered were not present?
Attack with troops and not keep them in the boats.