Great - my description was deleted when attaching a screenshot, so updated the post.
GAME INFORMATION
These details are CRITICAL; DO NOT skip them or your issue may not be reviewed.
GAME BUILD

#:

101.101.46295.0 6421374
GAME PLATFORM: Steam
OPERATING SYSTEM: Windows 10 Pro
ISSUE EXPERIENCED
DESCRIBE THE ISSUE IN DETAIL (below). LIMIT TO ONE BUG PER THREAD.
When playing any recorded game from before Update 46295, I get an out of sync error:
"Out of sync replaying game. This is usually caused by incompatible game version or data being used. Replaying stopped.
world time: 122945"
(World time number is different from game to game, but always the same for each individual game, i.e. when you replay the same game, the time will be the same)
FREQUENCY OF ISSUE
How often does the issue occur? CHOSE ONE; DELETE THE REST!
100% of the time / matches I play (ALWAYS)
REPRODUCTION STEPS
List CLEAR and DETAILED STEPS we can take to reproduce the issue ourselves… Be descriptive!
Here's the steps to reproduce the issue:
Launch the game
Click "Single Player"
Click "Load game"
Click on "Replays" tab
double a recorded game that was recorded before Update 46295
Let it play (changing replay speed won't matter) until you get error message (I have tried 10> games and they all go out of sync with ~20 seconds to 3 minutes)
EXPECTED RESULT
What was SUPPOSED to happen if the bug you encountered were not present?
Replay playing until the end.
IMAGE
ALWAYS attach a PICTURE (.jpg, .png, .gif) or VIDEO (.mp4, YouTube link) that highlights the problem.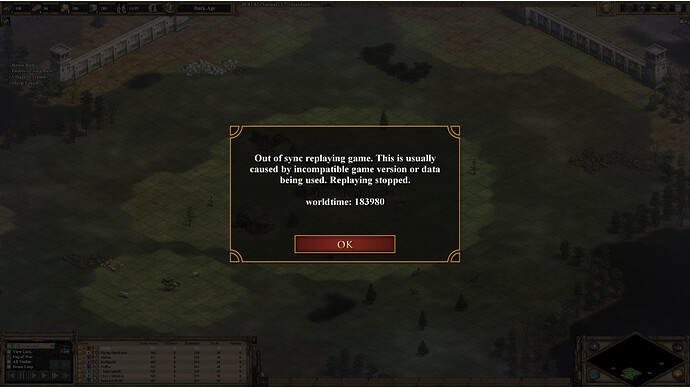 Uploading: image.png(1)…
GAME FILES (SAVE / RECORDING)
Attach a SAVE GAME (.aoe2spgame) or GAME RECORDING (.aoe2record) of the match where you encountered the issue. Link it below if using an external file service.
I cannot upload - I get the error message: "Sorry, new users cannot upload attachments".