How much gold does a single trade produce?
I determined a perfect formula, whose deviation is less than 0.01%! (could be tested in game)
The map size is m, the trade distance is d,
Trade unit work rate is w, the speed of trade unit is v,
The radius of trade building is R, the radius of trade unit is r,
Horizontal coordinate difference of the center points of the farthest trade buildings is Δx, and their vertical coordinate difference is Δy.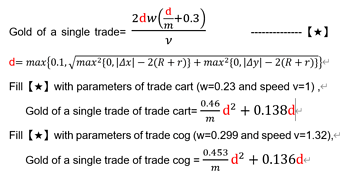 Explanations:
[★] is applicable to trade carts and cogs, suitable for all sizes of maps.
Parameters:
Trade carts' radius 0.25, work rate 0.23, speed 1
Trade cogs' radius 0.5, work rate 0.299, speed 1.32


*As a non-native speaker, it's the best English I could use. Some words might be confusing.