GAME INFORMATION
These details are CRITICAL; DO NOT skip them or your issue may not be reviewed.
GAME BUILD

#:

DLC Patch (but no hotfixes)
GAME PLATFORM: Steam
OPERATING SYSTEM: Windows 10
ISSUE EXPERIENCED
DESCRIBE THE ISSUE IN DETAIL (below). LIMIT TO ONE BUG PER THREAD.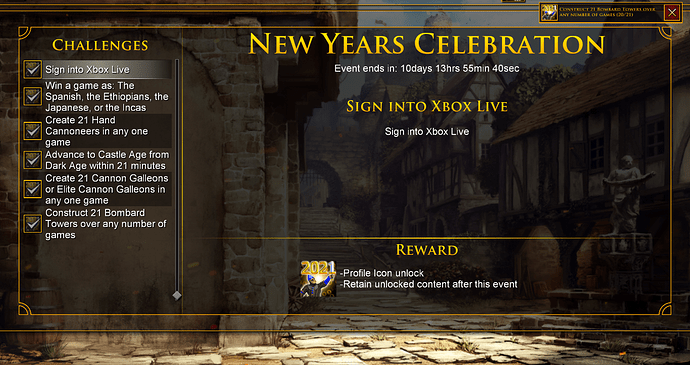 This challenge was done as soon as it was possible to achive (so should have been 5 days after the event started, made that screenshot, but only now am doing this report about it).
So whats wrong here? I played a game where I built like 50 bombard tower to get that achievement (postimp game vs ai with infinite ress). Now as we can see this counted as unlocked (I got the award for that challenge). But in the top rigth corner there is a message telling me I have constructed 20/21 bombard tower.

So the message is confusing. Not really a big deal, since I got the achievement and everything, just a little confusing interface.
FREQUENCY OF ISSUE
How often does the issue occur? CHOSE ONE; DELETE THE REST!
It occured once, since I can not do a challenge again
REPRODUCTION STEPS
List CLEAR and DETAILED STEPS we can take to reproduce the issue ourselves… Be descriptive!
Here's the steps to reproduce the issue:
Play the last challenge
Complete it in one game
Look at the message box in top rigth corner
EXPECTED RESULT
What was SUPPOSED to happen if the bug you encountered were not present?
The message box should show 21/21 to not make people confused
IMAGE
ALWAYS attach a PICTURE (.jpg, .png, .gif) or VIDEO (.mp4, YouTube link) that highlights the problem.
–should hopefully be already shown in previous section–