Hi there !
GAME INFORMATION

These details are CRITICAL; DO NOT skip them or your issue may not be reviewed.
**GAME BUILD 101.101.63581.0 9025584
GAME PLATFORM: Steam
OPERATING SYSTEM: Windows 10
Tower can attack with automaticly but It refused to attack when I order it
a knt which is in not limited non-attacked area(not at under the tower) tower can attacked but when I clicked to order it, It won't. game time is 25 mins 10 secs video, image and recorded game attached to the topic
video: aoe 2 def. edition tower bug - YouTube
image: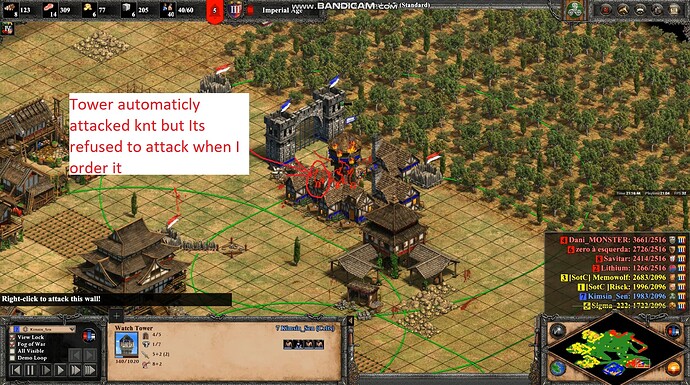 game record: MP Replay v101.101.63581.0 @2022.08.01 015739 (2).aoe2record - Google Drive
FREQUENCY OF ISSUE

How often does the issue occur? CHOSE ONE; DELETE THE REST!
Less than 25% of the time / matches I play (RARELY) First time, I've ever seen before.
REPRODUCTION STEPS
Tower can attack automaticly but when you order It can't
Here's the steps to reproduce the issue:
tower attacked to knt with own
when you clicked
3.It was not attacked game time is 25 mins 10 secs
EXPECTED RESULT

another tower bug pls fix tower realtaionship with aoe2 definitve edition
IMAGE
![tower refuse attack to knt|690x385](upload://anqxUS73osY8VTlfms2iFiylysp.jpeg)
GAME FILES (SAVE / RECORDING)
https://drive.google.com/file/d/1RtJ_YaBQtK0pVLYgAvJj3CE0yub2TKsc/view?usp=sharing
Thanks !