Hope to see the official version icon in retold
major gods version



isis/ra/set




hades/poseidon/zeus




loki/odin/thor




gaia/kronos/oranos




fuxi/nvwa/shennong
They are beautiful

I'm curious what the icons for potential civs (Mesopotamians, Celts, Japanese, Mesoamericans, Andeans, Hindus, etc.) in AoM could look like.
What tools did you guys use to make these authentic and nice looking icons?..
edit official icon with photoshop
Nice
May I suggest making different versions for each major god, each keeping its civ's design and colours but with a different central symbol ?
For example a trident for Poseidon and Mjollnir for Thor
I think it is feasible, I will try
Not reslly how AoM civs work. Each major god is equivalent to a civ, and civs are better thought of as just "culture groups" similar to how AoE3 has European civs, Asian civs, African civs, and American civs.
In fact, they're not even called civs in the code, but cultures, and the major gods are coded in like individual civs.
done!














Really cool, tho the game has always used an image of the gods to represent them (instead of a more symbolic icon) like this: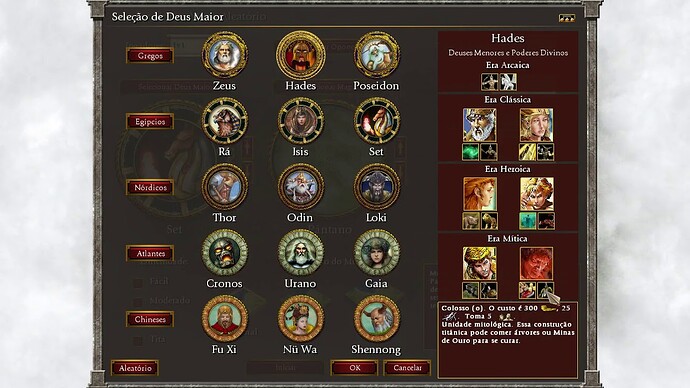 Talking about that, I always thought the Chinese goss' illustrations looked out of place compared to the ES ones. I hope Retold make them more consistent.
You're really awesome, Bro.
Now this is much more fitting! Well done! Love the Loki and Gaia ones. But i do have some suggestions.
Use the Sha beast head or hieroglyph for Set instead since more people would be able to recognize it. Also, the symbol you used is more associated with Isis than Set. So it looks like tou have two Isis ones.
Use the cornucopia for Hades since that was his main ancient symbol. The one you used is a neopagan symbol based on the modern astrology symbol for the dwarf planet Pluto.
Make the norse ones a bit less detailed, since when zoomed out/small you can't really see the details.
The Kronos symbol is just out of place. That is a modern astrology symbol created pre-emptively in case we ever name a planet Kronos. It was created in advance so we have one ready if we need it, along with many other such symbols for potential planet names. I recommend a greek scythe/sickle.
I'd also change the Ouranos symbol, since that's a modern symbol from the 18th century and derives from the name of the discoverer of the planet: H for Herschel. I recommend a sky dome motiff.
Since we talk about AoM: Retold - any news, leaks, something?
Nothing yet, at least nothing I've heard about. Hopefully we'll see some news this summer. I imagine it's still rather early in production.

hades for cornucopia


sha beast for set


ra sun and ankh

horus eye for isis


scythe for kronos


oranos symbol from the char design

Pretty damn cool!

Twenty characters.