In Aoe 2 players were able to train skirmishers that dealt bonus damage to ranged units. This allowed players to have a wide range of options to counter archers in the game. In AOE4 which is released in 2021, archers are countered by horsemen and nothing else in the Feudal Age (Except some civs with castle age units in Feudal Age). And then suddenly In Castle Age Crossbowmen and heavy sieges dominate the game.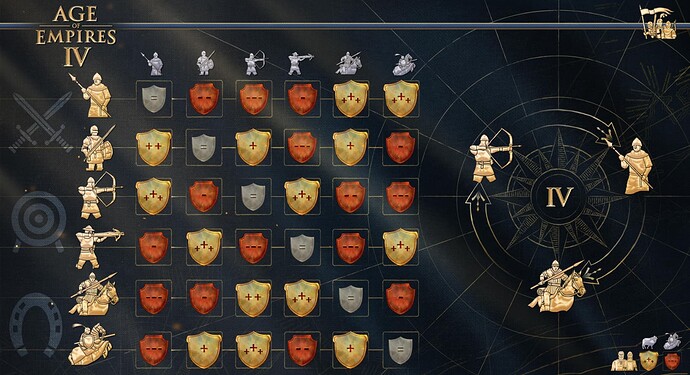 The Unit Counter Chart does not have Fire Lancers, Grenadiers, Camels, Horse Archers, Sieges, Elephants, Ships, etc. It is the most horrible counter-chart I have ever seen.
It tells that the villager does not counter Knight and Knight counters the villager heavily. But… What about other units?
It must include all unique units and their counters against all units.
As we can see, the developers messed this big time.
From the start of the development of this game, the devs used this chart to build and balance this game. And now it is becoming more and more clear that the issue was laying in this. It is totally incomplete chart and now causing all the balance issues because many civs have unique units that are different than some illustrated in this chart…
This is why the game is so "unbalanced".
No sieges in the counter chart mean it does not have any counter and so goes to the units that are not in the chart! But some are totally useless too.