(this is a crosspost from reddit but I was curious to get feedback from people here as well)
Ok this is a topic that has been bugging me for a long time.
It is common dogma that the Chinese are an OP pro + tournament civ. The main reasons given for this is their eco head start + wide open flexible tech tree. The thing is though, there is just no data to back this claim up. The chart below shows their win rate by Elo for open maps. Although that chart uses ±10% boundaries I double checked and even at > 1850 Elo they have a win rate of 47.6% [45.4%, 49.9%] (data from 20Nov2021 - 26Apr2022). For reference >1850 is equivalent to the top 1.5% of the player base.
As a comparison another commonly complained about civ for being OP in the upper Elos is the Mayans who have a >1850 Elo win rate of 58.4% [56.8% 60.0%]. That is to say the data clearly supports that they are in potentially OP in the upper Elos.
Overall I don't really know where the belief of Chinese being OP comes from; my speculation is that players and pros alike have confused the flexibility and ease of playing the civ with it actually being powerful. I further speculate that despite it being flexible and nice to play it actually lacks any major power/eco spikes compared to other well known OP civs that help set civs apart and secure wins in the upper Elos.
But alas I am a mere 1000-1100 Elo player so am talking about things beyond my skillset, I am curious to hear what others think about this…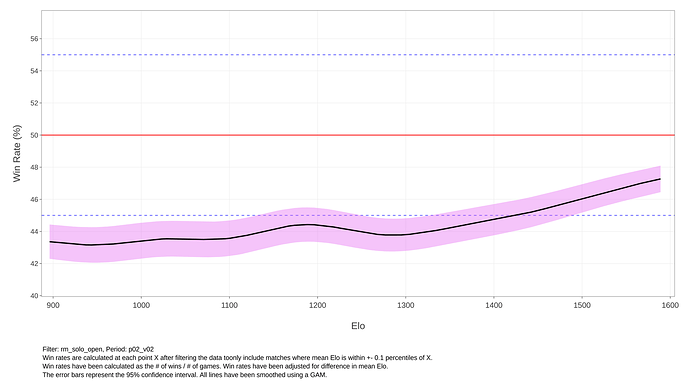 Chinese win rate by Elo for "Open" maps, source: https://www.ageofstatistics.com