Hello,
I discovered history with 2 games during my childhood. Mainly Age of empires and Caesar III. I was a child but enjoyed a lot the games.
I loved discovering history threw the campaign, but what i enjoyed the most, was learning some rough aspects from medieval architecture and from medieval military.
I play mainly strategy games. I played every single aoe with aom, The settlers IV, Caesar, Starcraft 2, Stronghold, Total war, Rise and fall civilizations at war (which is an excellent and actual free game), Star wars galactic battlegrounds, Empire At War, Battle for the middle earth and so on. I played Age of empires online too.
What made me consider loving history was the roman legions and learning that legionnaries built roads and bridges impressed me. I was fascinated by how well the roman armies were organised. Then i felt in love with greek architecture and hoplites. Well i love the ancient aspects of society and the material part of it : Buildings, weapons, armors, clothes. Those are visual and by a lot.
Then I went on studying History Archeology and Geography. I learnt about the Celts and the Hallstaat and La Tène (Iron Age) periods.
When i saw that a New Age of empires was coming i was quite happy. But when i finally saw what you showed us some weeks ago i must admit that i was a little bit disappointed. Here is why :
Units seem to be totally out of place because of the way they are designed.

Weapons are unrealistically scaled (i don't know if it was done for visbility but it disturbs the eyes quickly). Swords seem to be too thick at the handle (they were but not as much), Some spears are way too thick. One example of this is the halberd it looks so thick and large on pikemen. Look at the difference :
The swords are shaped like in a cartoon. Specially on the scouts they are way too thick near the handle it makes them look specially cartoonish.

The helmets on swordsmen are gold/yellow. Most of the medieval equipment was iron and sometimes steel please correct this and use silver all the time ( I believe you did this to show units upgrading). It would be better like that : imagine that a swordsman without upgrade should at least have Mail, next Gmabeson and finally plate armor as it upgrades.
Shields have historical issues. For example you decided to use the cross of st George symbol for the english. But I don't think it is accurate. As we know most of the knights used the coat of arms of their lords. If you want to say it is england and to be accurate use at least the coat of arms of the english crown :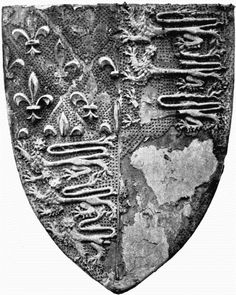 Same for the french. Don't use a cross, use a triple fleur de Lys. Here is a painting of the 100 hundred year war :
the design of the units seem to be quite weird it's an inbetween cartoonish and realistic. I think that's the main issue. The landscape looks amazing and quite realistic but the units with their cartoonish look seem out of place. I mean if you decide to go cartoonish go then full cartoonish like the settlers :
By the way i know it is 2d but the reflections on metal look better on this game than in AoE IV x)…
My opinion is that there shouldn't be an in between on graphics. You don't know which audience to focus on ? Well keep in mind when i was 7-8 years old i liked the realistic graphics of AOE i would never have prefered a cartoonish age of empires.
For me History is reality and it isn't fiction. Age of Empires should be the representative of history in video games and because of this it should look realistic and not cartoonish. I know it is just my opinion.
However look at this :
Which is the only Age of empires to go cartoonish ? Age of empires Online. Where is Age of Empires Online Now ? People didn't like the art style and the gameplay. But a lot of people strugled with it to be cartoonish. What hapenned ? the game failed. And despite of this Units were way more detailled and beautifully designed that in Age of Empires IV.
Another think i want to say is look at age of empires online : How can units from an old game be more detailled than the units in a 2021 game ?
This old game graphics seem way more polished than AoE IV.
The gameplay of aoe IV seems nice however as Age of empires online showed us it is not enough at all…
My advice is this one :
DELAY and Postpone Launchment or the game will not be a success.

Rework graphics decide to go full cartoon or full realistic.

Scale realistically weapons to realistic sizes.

add more details to the units.

change the main symbols of the civilisations for their real coat of arms.

contact the community, there are many historians and archeologist within our ranks we can help you to improve historical accuracy / reliability.

LISTEN TO THE PRO PLAYERS FEEDBACK. The Viper :
" As we were leaving Vancouver i was really really optimistic about the direction and vision were age of empires was going. Now over the couple past of years, the community council we have playe dthe game on multiple occasions and given feedback to let them know what we feel in order to help them devellop the game. Obviously there are things that there are taken into account other not. You can't blame me if you don't like the game. Snake not impressed ? I will admit that the first 2-3 times i played it i found the game very slow but the last time i played it my excitement rised a lot. "
It seems way better and it is good but when he talks about how the feedback was taken into account he had some sad face and then when someone said snake not impressed and he answered you could see that there was something not going as excepted. But he has faith that relic will improve the game and i hope so.
you can see on his face when he says that many things weren't taken into account that he seems a little bit sad. But it seems to have improved a lot so he gets excited.
If you do this i'm sure it will be a success. But as microsoft will not want to spend more money on developping the game i'm sure that it will not be done…
That's sad…