Hi all, this is my Aztec 3rd edition suggestion topic.
FLAG
Each icon represents a city (Alteptl) from its alliance, there are mods that change it.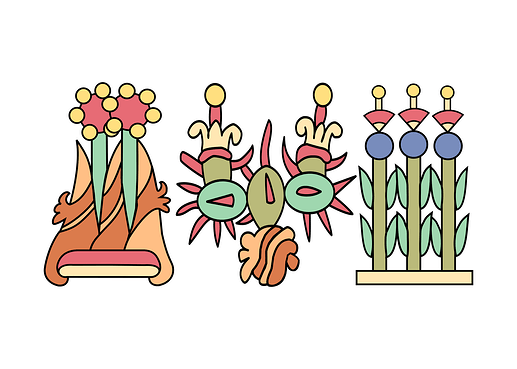 ---
NAMING CONVENTIONS
Most unit names are in their culture language, ex: "Rodelero" (Spanish) from their shield "rodela", "Cuirassier" (French) from "cuirass" a type of pectoral armor, "Doppelsoldner" (German), etc.
Examples:
Puma Spearmen = Tlamanih Spearmen
Rank name "Captor" lowest rank of warriors
Arrow Knight = Tequihua Bowman
Name given to archers in the army

Eagle Knight = Cuāuhtli (singular) | Cuāuhmeh (plural)

Jaguar Knight = Ocēlōtl (singular) | Ocēlōmeh (plural)

Skull Knight = Cuachic (singular) | Cuachicqueh (plural) "Shorn ones"
Edited: "Skulls" didnt exist, its clothes are from the Marshal rank "Tlacochcalcatl" "the man from the house of darts", in ####### Skulls are the representation of Cuachicqueh, the highest ranking caste of the empire.
Note: Naming could be without weapon name, ex: Tequihua instead of Tequihua bowman, as, Rodelero, etc.
Fortress to "Main temple" or Nahuatl equivalent.
---
BUILDINGS
Fortress issues:
-If destroyed can't be build back and only 1 can be built.
-its model is "ruined" version of Chichen Itza which is Mayan.
Fixes Ideas:
-At least 1 more fortress limit and/or Chief ability to build them if destroyed.
-Main temple model could be used or other capital buildings instead.
Extra:
-A4 or card to produce Skull Knights.
-A mix between Temple and Fortress, available from A2, scales with ages and cards.
Edited:
---
UNITS
Villager: replace javelin (ahtlatl) with blowguns for hunting, rocks or slings for normal attack.
Reason: Ahtlatl was reserved to nobles, while blowguns were used to hunt. Rock/Sling, during the Spanish conquest Moctezuma II was killed by enraged people throwing stones at him, other sources said he was killed by the Spanish.
MILITARY ISSUES
Most melee infantry have several weaknesses such as canon aoe killing them easily (this is intended), unlike ranged cant space apart (formation). Melee units in general (cavalry too) tend to collide and get in the way of others, wasting time and attacks unlike ranged.
Aztec units have low siege damage, average health and damage. Most have bonuses vs cavalry making some anti cav units feel useless (Puma-Eagle). In general they feel as if intended to be massed to overwhelm.
Coyote:
Aztec equivalent to Hussar, used to flank vs canons/skirmishers but lacks hit points and resistance/damage vs cannons. Hussars on their own are fairly good vs the above, while coyote even with 3 cards does it poorly.
Puma:
Could be an "insurgente" type unit and even replace militia. (Edited: Have a max limit of 50 instead of using population), representing better "commoners" joining warfare and the big population America had.
Otontin:
Aztec doesn't have artillery or ranged aoe. Otontin could become "Grenadier" type by having two modes, obsidian ammo makes it shot faster, clay ball shots slower but deals aoe. Via a card.
Edited: *Or having charged shot that does aoe damage ## ########## Or another options could be splitting the unit one in war hut as is now and another with the name "Yaoquizqueh" as SirBarnzy1 suggested, another in the noble hut named Otontin.
Arrow:
It's a bad joke, doesn't make sense, longest range of all archers, too slow and has bonus vs artillery.
Could be skirmisher/blowgun type unit, smaller range as all archers, faster fire rate and movement speed and leave anti-artillery bonuses to other units (coyote-eagle).
Eagle:
It's equivalent to Dragoon but lacks its bonus vs artillery (Edited: and should be the Elite version of coyotes). Its hand attack should be increased too, to behave as Hakkepelits.
Skull:
Its main issue its availability, if it could be created at fortress/noble barracks should be enough to be fielded faster, while Plaza does something else (as Incas), plus their hit points works well to tank.
Edited: Alternatevely to be as Papal units an infinite card unit that can be shipped in the Plaza or Fortress, using resources and taking shipment space and time.
---
CARDS
Scorched Earth: Edited: Should affect all units as Japanese cards does, especially since only puma and arrow have decent siege damage, with the change above mentioned their base siege damage should be reduced.
Ruthlessness: Should affect all units too, even more since Aztecs siege damage is low. Especially for fast units that can act as raiders (Coyote-eagle).
3 Knight Cards: Should affect all units too, especially Otontin slingers. Since all "warriors" acquired "noble" status, even after 2 reforms of Moctezuma I and II that limited commoners "ennoblement".
---
CIVILIZATION NAME
"Aztec" term has been a debate, personally I don't like it, in a former edition proposed the use of "Mexica" but many argued against due x/y reasons and the confusion with actual Mexico.
Edited:
Nahuas, I agree enlarges the scope, some thread in discord suggested having revolutions to Tlaxcaltecs.
"Excan Tlahtoloyan" is the actual term for tripple alliance in Nahuatl, means: "Los tres lugares donde se dan órdenes". (Three places from where orders are given, roughly translated). Others as Pedro Carrasco proposed "Tenochca", native of Tenochtitlan.
---
Thank you for reading this far, I tryed to list things that are possible in the most "balanced" way possible, while taking in consideration both gameplay and history. Comment bellow your thoughts, just try to be constructive.