GAME INFORMATION
These details are CRITICAL; DO NOT skip them or your issue may not be reviewed.
GAME BUILD

#:

October PUP
GAME PLATFORM: Steam
OPERATING SYSTEM: Windows 10
ISSUE EXPERIENCED
DESCRIBE THE ISSUE IN DETAIL (below). LIMIT TO ONE BUG PER THREAD.
The Berber Sultan cannot use the Chaos ability on guardians. The circle of chaos appears but there is no chaos induced. The guardians do not get mad at each other.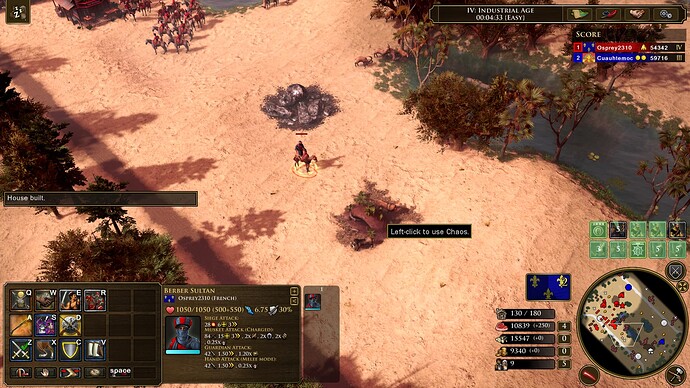 The circle of chaos appears but it has no effect.
FREQUENCY OF ISSUE
How often does the issue occur? CHOSE ONE; DELETE THE REST!
100% of the time / matches I play (ALWAYS)
REPRODUCTION STEPS
List CLEAR and DETAILED STEPS we can take to reproduce the issue ourselves… Be descriptive!
Here's the steps to reproduce the issue:
Ally with Berbers and get the Berber Sultan tech
Try to use Chaos ability with Sultan
No effect!
EXPECTED RESULT
What was SUPPOSED to happen if the bug you encountered were not present?
Chaos ability should work.
GAME FILES (SAVE / RECORDING)
Attach a SAVE GAME (.aoe3Ysav) or GAME RECORDING (.aoe3Yrec) of the match where you encountered the issue. Link it below if using an external file service.