Please add Billy the Kid as a skin for British Explorer.
Henry McCarty (September 17 or November 23, 1859 – July 14, 1881), alias William H. Bonney, better known as Billy the Kid, was an American outlaw and gunfighter of the Old West who is alleged to have killed 21 men before he was shot and killed at the age of 21.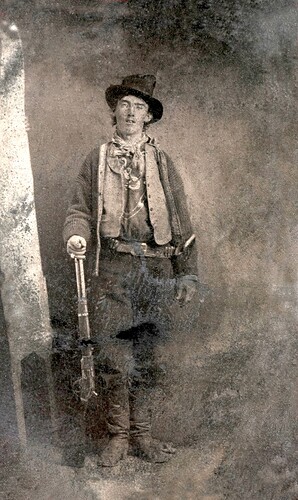 Since Portugal now has a skin based on Lampiao a Brazilian bandit killed in 1938, its only fitting.
"Cangaço is the name given to a form of banditry in the Northeast region of Brazil, from the middle of the 19th century to the beginning of the 20th century . In this arid and very difficult to cultivate region (the sertão ), social relations are particularly harsh and the inequalities more glaring than elsewhere.
In a form of revolt against the domination of the landowners and the government, many men and women decided to become nomadic bandits (the cangaçeiros ), wandering the great expanses of the hinterland, seeking money, food, in a spirit of revenge."
A gentle reminder that Brazil is independent since 1822.