GAME INFORMATION
These details are CRITICAL; DO NOT skip them or your issue may not be reviewed.
GAME BUILD

#:

100.12.23511.0
GAME PLATFORM: Steam
OPERATING SYSTEM: Windows 10 LTSB
ISSUE EXPERIENCED
DESCRIBE THE ISSUE IN DETAIL (below). LIMIT TO ONE BUG PER THREAD.
When the game starts in fullscreen mode, the intro cinematic is in a brown/sepia tint, and the game itself is in a blue tint filter. This return to normal when the game is displayed in windowed mode. Also when the windows 10 volume scroll appears over the game screen temporary return to normal.
Additional Information:
I haven't played the game since January (in that moment the game colors were fine). Now I'm returning after updating to the last version and I'm finding this bug. I tested updating the AMD drivers and the bug persists. Trying rollback the graphic drivers until I found an old version from May of the last year and the game color are displayed correctly, but with a framerate stuttering and temporary freezes.
CPU: Intel i5 2500k
Graphics: AMD Radeon R7 260x
Ram: 12GB
FREQUENCY OF ISSUE
How often does the issue occur? CHOSE ONE; DELETE THE REST!
100% of the time / matches I play (ALWAYS)
REPRODUCTION STEPS
List CLEAR and DETAILED STEPS we can take to reproduce the issue ourselves… Be descriptive!
Here's the steps to reproduce the issue:
Update the game to the last version
Update the AMD drivers to the last version
Play the Steam Version in Fullscreen mode.
EXPECTED RESULT
What was SUPPOSED to happen if the bug you encountered were not present?
The game should be display the normal colors in fullscreen
IMAGE
ALWAYS attach a PICTURE (.jpg, .png, .gif) or VIDEO (.mp4, YouTube link) that highlights the problem.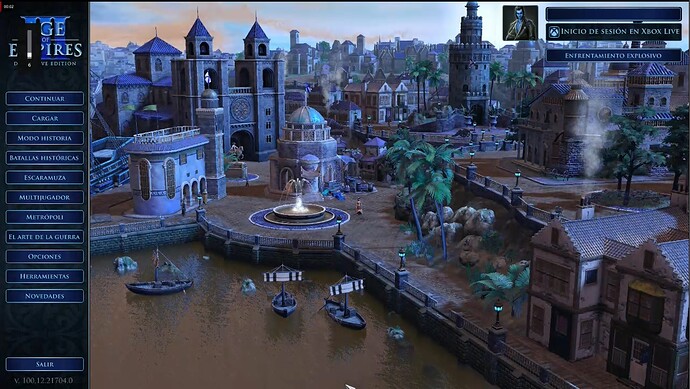 GAME FILES (SAVE / RECORDING)
Attach a SAVE GAME (.aoe3Ysav) or GAME RECORDING (.aoe3Yrec) of the match where you encountered the issue. Link it below if using an external file service.