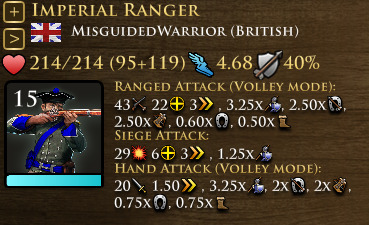 (3 Ranger cards, Advanced Arsenal and all upgrades)
They have 3 more damage than Port Cassadors
Roughly 7 more damage than normal Skirms
A higher multiplier against Heavy Infantry (0.25 higher than Cass or Skrims)
2 more range than Cass or Skirms.
Tests show that they kill Musk better than normal Skirms and beat all other vanilla Skirms.
I don't see why this was necessary, brits already have great musks and Huss. Longbows are also good even though they don't kill musks as well as Skirms do they still beat them and win against vanilla Skirms too.
If you play Dutch or Germany it's a joke because your skims will lose to the Rangers when your Skirms are the only viable infantry you have late game.