Here is a simple definition:


Now if you read bellow you will see that a bunch of people have been granted access to the game already and are already preparing, and most of them are going to participate in an open tourney upon launch where they have the chance to gain money. Now how do you call that?
I would like to add that part of these people are the same people who have been in this rather useless community council, and didn't care enough for AoE4 to call the devs for a lack of UI selection box displaying individual units, keybindings and many of the game's shortcomings that will doom it from being a worthy successor of the AoE name. But when it's about money, then yes they are the first in line.
Good luck if you are not a shill and just wanted to join this tourney as well and have a fair chance for the prize, it's already taken care of.
Here is the reddit link, which is in the process of being deleted by aoe4 reddit mods who, might I add, are also disingenuous and with their own agenda. But not to worry, I have captured an image of it too.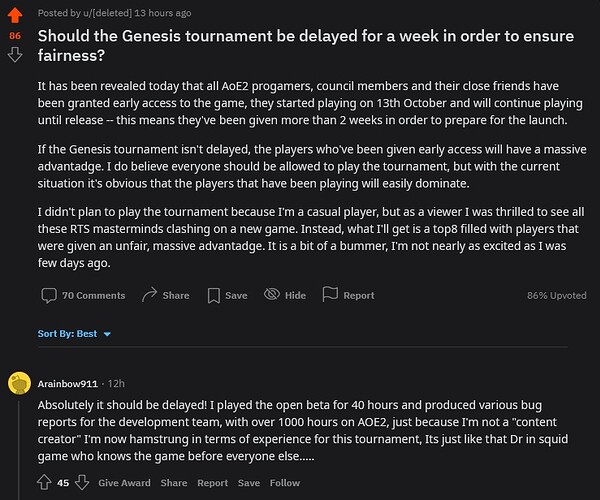 Many of you know me here, including some Relic stuff, I have been a long time contributor here from day 0 and supported the development process of this game and the people who are making this game. But I have grown more and more disappointed with how AoE4 has been handled, and I will not stand for unethical practices and disingenuity, and will call things for what they are. I will never be a shill.
For the admins of this tourney, if you read this, I would just cancel it altogether if I were you, it has 0 credibility now.