GAME INFORMATION

These details are CRITICAL; DO NOT skip them or your issue may not be reviewed.
GAME BUILD

#:

101.101.59165.0 8211018
GAME PLATFORM: Steam
OPERATING SYSTEM: Windows 10
ISSUE EXPERIENCED

DESCRIBE THE ISSUE IN DETAIL (below). LIMIT TO ONE BUG PER THREAD.
Capped Rams and Siege Rams deal doubled damage to town center. This has been happening for almost two months. Fully upgraded siege ram deals around 480 damage per hit to town center where it is supposed to be 240 (200+40 (additional damage from siege engineers upgrade)). Hopefully this issue can be properly and reasonably called as bug.
FREQUENCY OF ISSUE

How often does the issue occur? CHOSE ONE; DELETE THE REST!
100% of the time / matches I play (ALWAYS)
REPRODUCTION STEPS

List CLEAR and DETAILED STEPS we can take to reproduce the issue ourselves… Be descriptive!
Here's the steps to reproduce the issue:
Start the game
Go skirmish vs AI or multiplayer
Create ram push in imperial age
Upgrade battering ram into capped ram or siege ram
Hit town centers
Fully upgraded siege rams do 474 damage to town center with masonry so that it takes 6 hits to destroy the town center instead of 12
EXPECTED RESULT

What was SUPPOSED to happen if the bug you encountered were not present?
Capped rams did 150 (or 180) damage instead of 300 (or 360) while siege rams did 200 (or 240) damage instead of 400 (or 480). Thus, the damage output given was the same as to other buildings.
IMAGE

ALWAYS attach a PICTURE (.jpg, .png, .gif) or VIDEO (.mp4, YouTube link) that highlights the problem.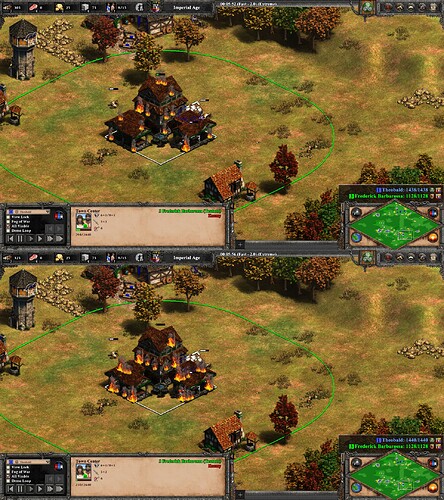 GAME FILES (SAVE / RECORDING)

Attach a SAVE GAME (.aoe2spgame) or GAME RECORDING (.aoe2record) of the match where you encountered the issue. Link it below if using an external file service.
SP Replay v101.101.59165.0 @2022.03.15 184155.aoe2record (752.2 KB)
Note: Correct me if I am mistaken. Hopefully this can be understood since I use English as foreign language.