My thought process started when I saw this image made be @Seicing: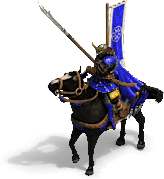 Everyone agrees that samurai need some sort of change to see more play, and this is because of a few issues:
Infantry units in general are weaker than cavalry and archers and/or serve little purpose. There's no shortage of discussion around this so I won't bore you guys with a rewrite of those arguments.

Japanese champion serves the same purpose but is much more accessible.

The samurai gimmick of having bonus vs unique units rarely comes into play because samurai die to archer UUs the same way normal infantry die to normal archers and cavalry UUs can run away. The only UUs they beat are infantry UUs and those aren't used either.
In short, infantry bad → even if you want infantry champion easier to get to → the only situation samurai are significantly better than champions are against other infantry UUs and those aren't common.
Benefits of making samurai a cavalry unit:
It would differentiate them from champion so you no longer would have to choose between easy to mass champs or slightly better but way harder to mass samurai.

I think this is the biggest reason for the change and it is that they would be able to actually use their bonus dmg against other UUs. The interaction with infantry UUs won't change much but they would be able to chase up cavalry UU, cav archer UUs and archer UUs.

Bonus points: they look really cool and are more historically accurate horseback with spears (not 100% correct me if I'm wrong).
The stats would have to be reworked obviously. Cav samurai (cavurai?) can be balanced using one of two ways:
Either they are made cheap (relative to cavalry) but aren't the best all round unit prompting you to make them when the enemy is making UUs but not when they aren't. In this scenario their bonus damage and pierce armor will be low making them a soft counter so numbers will still play a big role in who wins (eg. 10 samurai still lose to 15 leitis, archer UUs can still kite etc.). A great example of this is camels, if the enemy has cavalry, you should make them, but if they use infantry, archers, monks or any other non cav unit then camels are a bad choice.
Or cav samurai can be balanced like cataphracts, slow and expensive but a better all-round unit that absolutely decimates its intended target (hard counter).
Potential issue with changing samurai:
The devs and fanbase might not be big fans of that radical a change to an original civilization.

Japanese don't need buffs. I think it's important to this is to look at the maps that this change might potentially change them.
Arabia and open maps won't change (not a UU meta).
On closed maps like arena, I doubt that they'd break into s tier due to the meta revolving around cd gunpowder (can kite all melee units back to castle) smushes or booms into generic units which receive no bonus dmg from cav samurai and are faster to access. Although they might become obnoxious against certain matchups (Mongols?) though camels vs mangudai should be the same a as cav samurai vs mangudai and mangudai aren't bad against camels.
On hybrid maps they might become OP?
So, what do you guys think?