GAME INFORMATION
These details are CRITICAL; DO NOT skip them or your issue may not be reviewed.
GAME BUILD

#:

101.101.44834.0 6148570
GAME PLATFORM: Steam
OPERATING SYSTEM: Windows 10
ISSUE EXPERIENCED
DESCRIBE THE ISSUE IN DETAIL (below). LIMIT TO ONE BUG PER THREAD.
On CID campaign 4 "Black Guards", you can leave a monk on the Black Guard Mosque, so he learns Monastery technologies for free. On all technologies he speaks spanish and text on screen is spanish also, however, on the second technology learnt (Fervor), the on-screen text is as expected in spanish but he speaks in english the sentence.
FREQUENCY OF ISSUE
How often does the issue occur? CHOSE ONE; DELETE THE REST!
100% of the time / matches I play (ALWAYS)
REPRODUCTION STEPS
List CLEAR and DETAILED STEPS we can take to reproduce the issue ourselves… Be descriptive!
Here are the steps to reproduce the issue:
Put the game in spanish
Take the CID to Black Guard Mosque
Convert the Black Guard Mosque
Send a monk right next to the mosque and wait several minutes until he learns Fervor.
EXPECTED RESULT
What was SUPPOSED to happen if the bug you encountered were not present?
Expected is to match speech and on-screen text to selected language.
IMAGE
ALWAYS attach a PICTURE (.jpg, .png, .gif) or VIDEO (.mp4, YouTube link) that highlights the problem.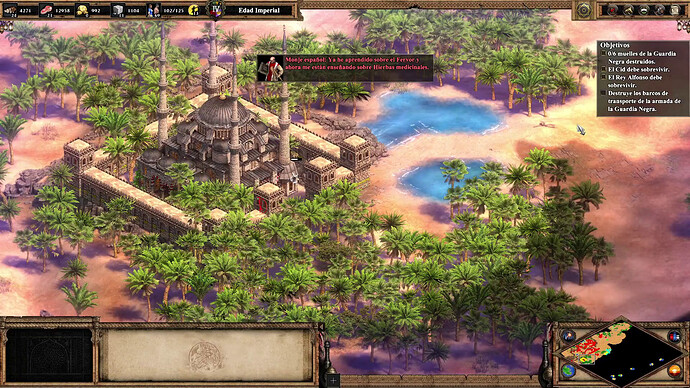 GAME FILES (SAVE / RECORDING)
Attach a SAVE GAME (.aoe2spgame) or GAME RECORDING (.aoe2record) of the match where you encountered the issue. Link it below if using an external file service.
Savegame, recording and MP4 video file:
https://mega.nz/folder/oEtg0BoT#vDOIS4zPwXrdFY4mkOtAqQ