You all know that I am too vocal about nerfing civs that have too many advantages, but that ones mostly go to arabia balance, in arena, while the balance on arena is good, some civs still overperform here.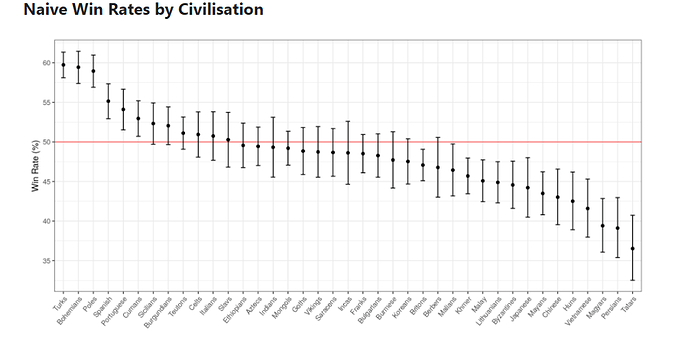 Bohemians
Gold Shaft Mining and Stone Shaft Mining aren't free anymore, having all mining techs for free is way too much.
Move the University discount to Italians, I think Italians will benefit more of 75W universities than Bohemians.
Standard and Elite Hussite Wagon HP reduced to 180 and 220, so Mangonels are better vs them.
Houfnice AoE reduced.
Lose access to Siege Engineers
I think those changes are neccesary because all together makes them too strong on arena.
Poles
Obuch PA reduced to 1, +5 gold cost
Folwark now gets 5% of farms instead of 10%, but also allow to garrison up to 6 villagers.
Szlachta Privileges reworked, not sure how, but having semi-trash cavaliers and super powerful winged hussars is a flawed design, by the moment the player gets the opportunity, Winged Hussars are just left out in favour of cavaliers, which despite lacking armor, they are objectively stronger than Polish Winged Hussar, while the tech is fine on open maps, on arena I ve seen instances where spam of 30G cavaliers match halbs in numbers and beat cost effectively Elite Leitis and camels lol, that shouldn't happen never.
Those changes should nerf their power on arena by a lot, while the folwark one could help them on arabia.
Turks
Castle age Jannisaries -1 range, Elite Jannissary gets same accuracy as hand cannon at 75%
Free LC and Hussar upgrades gone, replaced by Stable technologies gold cost removed.
Artillery cost raised to 650W and 500G.
While in arabia they are below average, on arena they are what mayans are on arabia, outright OP in the whole word, in castle age jannissaries outrange pretty much anything and their attack is really high, at least allow xbows, skirms and mangonels to do something vs them, If you are competent on arena you will know that having free LC and Hussar upgrades is huge, in castle age you get such power spike to get map control and contest relics, that alone puts you on a huge and massive advantage as LC is better vs spears, and that only continues to grow in Imp with free Hussar upgrade and the extra PA, replacing that with Stable technologies no longer costing gold nerf such supremacy but buffs them on arabia, especially when scout rushing into Knights, plus buffing them vs cavalry as they can tech quickly into heavy camel to offset the lack of pikes, balanced by the fact they lack paladin. and Artillery after buff also contributes to that supremacy on arena, this tech is way strong to be that cheap, and Turks have free chemistry.