GAME INFORMATION

These details are CRITICAL; DO NOT skip them or your issue may not be reviewed.
GAME BUILD

#:

Current RoR
GAME PLATFORM: Steam
OPERATING SYSTEM: Windows 10
ISSUE EXPERIENCED

DESCRIBE THE ISSUE IN DETAIL (below). LIMIT TO ONE BUG PER THREAD.
Trying to set up custom civilizations using the new Civilizations.json file and new strings for the Rome at War custom civs is producing a strange issue where I can't give them a custom description without overwriting something. In the base game, the ID for a civilization description is the ID of the civilization name, + 109879. For example: Britons have a civilization name ID of 10271, and a civ description ID of 120,150. However, when trying to use a custom civilization with name ID 10551 and description ID 120,430, only the name will display ingame, and the description for Britons will be shown instead.
FREQUENCY OF ISSUE

How often does the issue occur? CHOSE ONE; DELETE THE REST!
100% of the time / matches I play (ALWAYS)
REPRODUCTION STEPS

List CLEAR and DETAILED STEPS we can take to reproduce the issue ourselves… Be descriptive!
Here's the steps to reproduce the issue:
Add a new civ string called "Test" with ID 10551
Add a matching civ description with ID 120,430
Change one of the civilizations in Civilizations.json to use the new civ name ID of 10551
Expect it to also use the civ description, but it doesn't.
EXPECTED RESULT

What was SUPPOSED to happen if the bug you encountered were not present?
109879 is added to the civ name ID and used to reference the civ description ID, rather than defaulting to one of the base game IDs.
IMAGE

ALWAYS attach a PICTURE (.jpg, .png, .gif) or VIDEO (.mp4, YouTube link) that highlights the problem.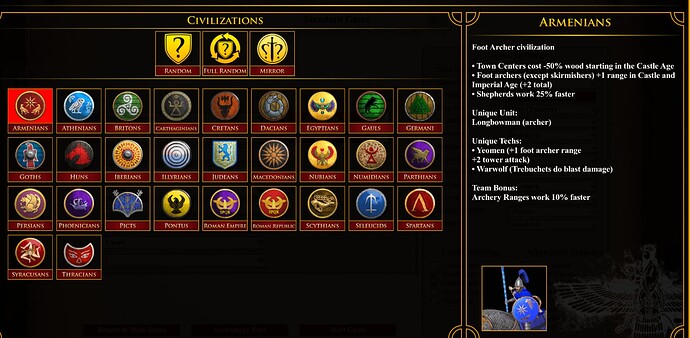 GAME FILES (SAVE / RECORDING)

Attach a SAVE GAME (.aoe2spgame) or GAME RECORDING (.aoe2record) of the match where you encountered the issue. Link it below if using an external file service.