(This is an updated version of a post on the subreddit)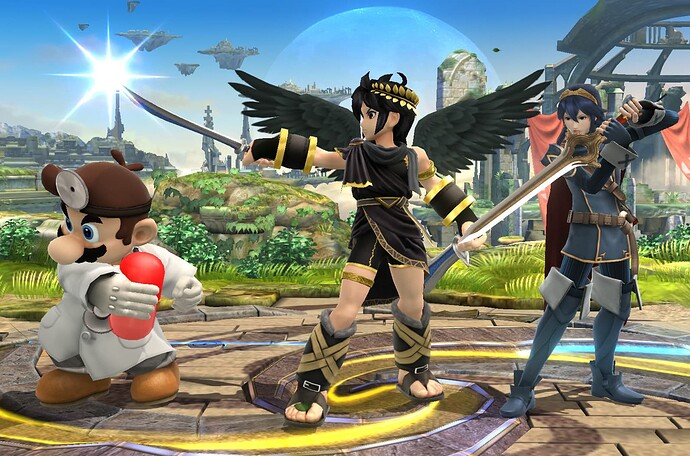 An idea I just was how the devs can satisfy people's desires for certain civs while keeping the development workload pretty low. And as you might've guessed from the title and pic above (for anyone who's familiar with Smash Bros), it's "clone" civs. Basically, taking the work already done on one civ, modifying it slightly, and rolling it out as a "new civ." For those who aren't familiar, Smash Bros did this with several characters, just modifying their looks and stats. And for Street Fighter fans, think of Ryu and Ken. More closer to home in the RTS realm, I'm aware that Red Alert 2 did the same. You had Allies and Soviets, but multiple nations within each group that had their own signature units (see pic below).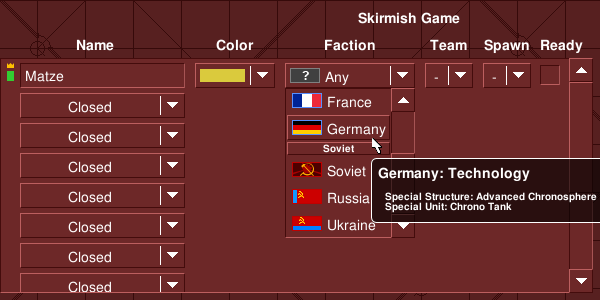 On top of that, this also solves the dilemma of creating civs that have similar identities and themes. For example, several well-known civs were famed for cavalry, but creating a whole new civ for DLC that's "another" cav civ might annoy players. But if you were to unleash a whole bunch of new relatively low-effort civs that add some slight variation, that should hopefully satisfy a bunch of people.
So the general principles are as follows:
Clone civ retains base civ's global abilities. For example, faster villagers for French, etc.
Clone civ differs with some unique units and landmarks where necessary
New assets (graphical and voice) will be required.
Now here's the kicker. ~10 clone civs is a lot of work. But how do you make it worth it? Periodic DLC content.
This gives devs the time to make them.
These new civs do not offer significant gameplay changes from the base civ. Therefore, these civs should not "split" the community. If you don't pay for them, big deal. If you do pay for them, you get a nice little extra variety! And I WOULD pay for them. This is much cooler than skins and decals that you get in other games.
Balance work is also significantly less compared to a full-fledged new civ. You would still basically just have the balance of the 10 original civs and all their combinations… instead of the insane combination of 20 civs, which is ridiculous to balance.
Now here are main clone candidates for each civ.
French → Hungarians/Magyars
This is a great example, and so I'll go into more detail on this one to show what a clone civ could look like. Hungary was a cavalry-heavy military civ that was a solid European power in the middle ages. However, will we ever see the Hungarians? Unlikely! But as a CLONE civ, it's very doable. Since they are a cavalry army, so it makes sense for them to be based on the French.
Hungarian features:
THE classic Hungarian unit is the Hussar, a light cavalry unit. This will be one of their new unique units replacing the horseman. In compensation, the Royal Knight is a simple early knight like Rus.
They will still keep the School of Cavalry landmark, but there would be a more nuanced decision between pumping Hussars vs pumping Early Knights.
Arbaletriers will stay but be renamed. Per review on Wikipedia, guess what else the Hungarians had? Pavise! So perfect. Hungarians also had access to a wide variety of artillery, so the College of Artillery can stay.
One of the landmarks should be replaced to one that gives access to the Black Army mercenaries… effectively a Wynguard Palace. Probably a replacement for the Royal Institute.
Regarding assets: European-style architecture would work, with maybe some subtle changes from French, HRE, or Ottoman buildings. Voicework is easy with modern Hungarian being very accessible. If all else fails, there's always Lidakor!
Holy Roman Empire → Eastern Roman Empire
I actually imagined the Byzantines to be focused on relics, since they historically hoarded a TON of Christian relics. I really can't stress that point enough. So that gameplay aspect can be the same. That said, I do think as a civ, the ERE does deserve to be its own. But still, they work very well as a clone civ. In fact, they can probably keep most landmarks (and even prelate), and repurpose the unique units to be more cavalry based with Cataphracts.
Rus → Poles
Basically already done in the campaign anyways. Similarly, unique units would have to change. Winged Hussars (cavalry unique unit) instead of Streltsies, etc.
English → Scots / Celts?
I'm pretty sure the Scots didn't have longbowmen, but I know the Welsh did. Maybe it could be more generic as Celts. But if that can be kept, then you'd have another archer-based civ, and you can change around the landmarks, as the more ornate landmarks do not fit the Celts, who were way more "tribal." Some replacements would of course be aesthetic. Like I'd imagine a Council Hall (name unchanged) that's more like a big lodge rather than the church-like building of the English. Others would have different abilities, as this would still have to separate itself from the English.
Delhi → Tamils
Tamils, which were represented by the Chola and Pandya dynasties, were the dominant power in the southern Indian subcontinent. Also called Dravidians, you may be familiar with them from the recent AoE2 DLC. Instead of Muslim theme, you'd have a Hindu theme. This would also fix a complaint from Indians who did not want to be represented by the "foreign" Delhi Sultanate. This would remain a sacred site-centric civ that gets free tech and also uses elephants. Maybe the two types of elephants can be split between both of these civs, since most people don't use war elephants. Otherwise, the latest AoE2 DLC can be a good source of how to handle these two Indian civs.
Abbasids → Fatimids
The Fatimids were actually the more dominant caliphate during the timeline of AoE4, so this makes a lot of sense. This could be another House of Wisdom-based civ but with different choice upgrades. Perhaps a wing or two could be changed. For example, maybe a Science/Engineering Wing that improves defensive upgrades?
Mongols → Cumans
Cumans were very, very similar in style to the Mongols, so this could work. Theoretically you could also have Tatars, but they're even closer to the Mongols (in fact the campaign interchanges the two). The Khan would replaced by a generic scout, but they'd get another unique unit in return. The biggest challenge for this civ (or any Mongol clones) is language.
Chinese → None
Chinese system way too unique to copy. Also too much work.
Ottomans → Seljuks
Would definitely have to change the Janissary and Bombard, but can keep the Sipahi. This would be more focused on cavalry than artillery, but many features can stay the same. There are plenty of unique Seljuk military units to choose from, for example the Akinci.
Malians → Vikings!?
Hear me out here. Complete reskin (just think of Captain Falcon and Ganondorf in Smash Bros), but kinda keep the mechanics. Stealth berserkers replacing stealth musofadi warriors? Hell yeah brudda, Vikings also used spear throwing, iirc, so they can have their version of the Donso. Obviously they were NOT about gold, so that would be the part that actually changes for this civ. Maybe some kind of super wood generation instead of gold… because they need the wood to make ships.
Finally, this also allows for an Aztec + Maya pairing in the future, with either being the "11th unique civ," and the other being DLC = more money for developers.