Summary

While the purpose of this post is to get community feedback the promotional feel is consequential. Thus, reasonable effort to minimize that feel has been employed throughout.
Hire an army and research upgrades using the resources provided at the start of each round.
Out-manoeuvre and overpower the opposition to secure a central objective for your team.
Maintain control for a set length of time or until the enemy surrenders to win a round.
Capturing the site begins that rounds win countdown timer.
Gain control by being the only player/team to have living units at or next-to, the site.
Remain in control by having at least one unit there when the opposition is in the range.
The first team to win the selected number of rounds wins the match
| Research and upgrades are permanent, but a new army must be hired each round. The resources scale with player-per-team ratio. ie. 1 v 2 = t1/p1 gets 25000 and t2/p2-p3 get 30000 split between them both. Stone is increased for the Mongol Empire at the expense of other resources Host can select if unspent resources will carry over in addition to the amount provided. | The timer can either reset when the team in control changes, or pause and begin counting down from the top for the new team then resume where it left off if control is regained until one team cumulatively runs down the timer to 0 |
| --- | --- |
New Features:
A player will be replaced with A.I when a player quits during an online match (booo!)
Pause button added to pause the countdown during the hire period for all players, delaying the availability of the objective to be captured and/or prolonging the window to hire units should the limited hire time option be active.
Option to allow all units movement through dense forest areas that block access to objective. Useful if you insist on using a heavily wooded or centrally forested map like hideout or blackforest.
A 30 second intro sequence can be turned on or off to visualise the objective for those who refuse to read the description before they ready-up in a multiplayer match. The sequence is especially boring if you're playing vs a.i only, as the action is specific to each local player.
A tuning pack is included now that adds some weapons and minor functionality to certain units- tuning pack not required and almost any tuning mod can be used with the game mode.
English arsenal entity visual precache redbox fixed
Unlocalised text on Kings and Generals UI tooltips has been localised
As I continue to smooth out intricacies to make the best experience possible any help spotting overlooked or missing aspects is appreciated.
Found and fixed oversights:
| Abbasid Dynasty | China | Mongol | HRE |
| --- | --- | --- | --- |
| House of Wisdom wings are constructed and related boosts activated | Dynasties all activated and boosts applied | initial stone provided increased by splitting the difference with gold ie. others-gold=5000&stone=1500/ /mongolciv-gold&stone=3250) | elzbach influence bonus activated for production buildings |
| all wing-specific upgrades are available | all unique units and respective upgrades available | | |
| all unique units and respective upgrades available | currently the generals guard may be used as an official (until a better solution is ready) | | |
Updates Dec. 14th 2022:
Fixed Mongol improved production menu access pre/post prayer tent upgrade.
More adjustments to ai unit selection.
Updates Dec. 11th, 2022:
Added option to disable the ability for players to continue hiring units after the 'Hire Period' has completed.
Added option to enable/disable buy/sell/trade capabilities within/between markets.
Added option to spawn a king that boosts nearby unit stats. Spawns when hire period completes and site becomes capturable.
Adjusted AI objective priority and strategic intent for a much better defend/capture interaction focused on the central object.
Added some more lobby options this week, including:
Custom population limit choice. From 50 - 1,000 units, incrementally.
Select how many rounds a player or team has to win in order to win the match.
Also adjusted the AI unit selection and spawning process.
Expect a few more to be added this weekend.
The game mode is currently fully functional and bug free save 'out of my hands' things like sync errors
Currently looking to identify and remedy any of the following:
Landmarks that have specific and unique upgrades with influence to a players combat strategy and army performance which cannot be acquired in the initial state
buildings that unlock things in other buildings(ie. the Mongolian Ovoo) , also
any passive / automatic bonuses (like those from Dynasties.) that a player would have by the equivalent state of progress in a standard match.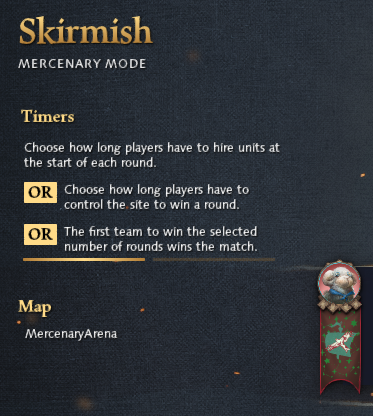 A couple descriptions of the unique lobby options.
Has scripted A.I that is frequently updated and improved. Although it can be a little too stacked, or dim, sometimes due to the variability of it. So you may prefer to play with friends. No navy at the moment so do not use with water maps/mega random.
The goal is to provide a natural and balanced start to all civs reflecting the state one would be in by that point of progression without just giving all the upgrades for free at start. Retaining the upgrade and research options presented without having to expend time and resources on constructions is vital to the whole combat part of Combat Mode.
Please give feedback at the The official aoe franchise website mod page Let me know what you like, or don't like, so I can further expand on this working version of the official combat mode