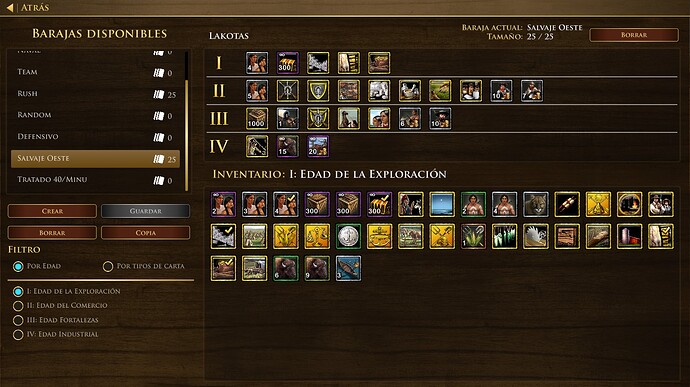 al menos contra la ia en experto me resulta bien xd, pero contra humanos tampoco es que falle demasiado
India supremacy deck
Std deck for almost scenarios. Maybe add in Royal Green Jackets vs Musk based civs.

For a tp start in a def matchup, the Good Faith Agreement deck


Anti-water deck


You reminded me, I need to update some decks.
As I said, it's a standard thing, and at that time I liked the mantles much more than the cavalry combat improvements, because at that time I was ranked too many brits, dutchs and russians, I preferred to tank damage and have a siege than to kill cavalry imo. But nowadays I think mantles can be removed and replaced with more HP for cavalry, it's more standard. And well, the improvement of farms I usually agree with the foundation ceremony to obtain all the improvements of gathering quickly, in that aspect the nats are at a disadvantage, they do not have them in the market but in the farms and plantations. But hey, it can also be removed and replaced with a military card if you're going for militaristic FF.
Thank you for your input!
I've been trying it with the sheep card 1st, it has a tech you can get for an extra vill and once all the sheep are fattened you can pump all that food in the lombards, also your davnced politician card still arrives before you age up.
Interesting, I usually have another strategy. If the map doesn't have much food I usually create another architect to build corrals.
Are those age 4 musketeer shipment good?
Depends on the situation, but if you're interested in playing it safe, trade them for the 19 crossbowmen.
Yo recientemente para el dlc europeo,me hice barajas de equipo para todas las civs y me gustó bastante como quedaron…
Incas
Native Rush (Mapuches)
It's not a deck that can work on every map, but it's fun to use the Mapuche to harass and overwhelm your opponent.
Info:
With the new system of native settlements we can gain experience to have shipments to spare and purely use the Mapuche to make an Intense Rush in Age II, this deck is almost a Mapuche revolution, but dependent on the map and financed by the Incas.