First of all this topic is not intended to discuss wether or not the Prussians should be their own civ or are sufficiently represented by the Germans. There are multiple topics concerning this discussion and we don't need yet another one.
That said, the Germans would require small changes upon a potential Prussian civ. The AI leader and homecity would move to the Prussians and the Germans would receive new ones. And the Needle gunner royal guard would need a renamed. There are no further Prussian elements in the German civ. But this is not a topic about the Germans so therefore: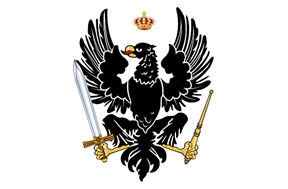 Prussia
Leader: Frederick the Great
Home city: Berlin
Features:
Train reservists instead of settlers.
Reservists can be conscripted into the Landwehr and Landwehr can be decommissioned into Reservists.
Royal Guard units: Grenadier (Riesengarde), Hussar (Totenkopf).
Unit Roster:
Town center:
Reservist
Barracks:
Landwehr
Schützen
Musketeer
Stables:
Hussar
Dragoon
Artillery Foundry:
Grenadier
Falconet
Culverim
Mortar
Horse Artillery
Factory:
Heavy Cannon
Overview and mechanics:
Reservists and Landwehr:
To represent historical Prussia having low population and relying on compulsory military service to have been able to field on of the largest armies in Europe at the time. Prussia trains reservists instead of settlers, these units are identical to settler in most ways except that in age II the conscription ability unlocks. This ability allows the reservists to enlist in the Landwehr, becoming Landwehr soldiers. Landwehr are a ranged infantry unit that share their health pool with the reservists. Meaning that in later ages Prussian villagers get health pools rivalling those of musketeers. Likewise the Landwehr can decommission again, becoming reservists. This ability doubles as an economic bonus allowing the Prussians to change their trained Landwehr into reservists and so quickly increase their villager count. This ability however is expensive and leaves the Prussians open to early aggression.
Musketeers and a standing army
The Prussians can still build regular musketeers, and these musketeers are the strongest non-royal guard musketeers in the game. However to represent the Prussians low population and trouble building a standing army, the Musketeer build limit starts at 0. There are multiple card available to the Prussians to allow them to build a standing army of Musketeers and increase their build limit should they find their Landwehr not up to the task.
Grenadier focus
The Grenadiers are an iconic unit of the Prussian army, therefore they have multiple cards to increase their power. Including a card that would allow them to be built in the barracks as early as age II.
The German Empire
The Prussians managed to unite Germany and create the German Empire after defeating the French in the Franco-Prussian war in 1871. For this reason they gain access to a new revolution in the German Empire. This special revolution is geared towards a longer game, with their reservists enlisting automatically into the Landwehr but still being able to decommission into reservists and so allowing the German empire to retain their economy if they so choose. In addition there are cards that mimic regular Imperial age technologies and even a repeatable factory card to allow the German Empire to potentially compete with Imperial age economies.
Archaic units
The rise of Brandenburg-Prussia as a major European power began in the aftermath of the thirty years war. By then Pikes and crossbows were on their way out from European armies, Prussia itself was amongst the first armies to completely abandon the Pike. Therefore no archaic units are available in the Prussian barracks. Pikes are available with the church card, and if balance requires it crossbows and pikes could be made available with age II shipments.
Unique units:
Reservists
Prussian settler replacement. Functionally identical but can conscript into a Landwehr soldier starting in age II and shares a health pool and therefore health upgrades with the Landwehr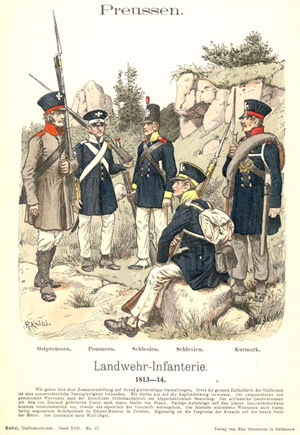 Landwehr:
Prussian ranged infantry that can garrison in outposts and town centers as if they were settlers and be decommissioned into a reservist at a cost.
There are no cards that ship reservists or Landwehr.
Schützen
Skirmisher replacement with shorter range. They ignore a portion of their target's ranged resistance.
Revolutions:
Argentina
Gran Colombia
Germany:
All reservists are conscripted into the Landwehr.
Cards:
Die Wacht am Rhein : Units near guard towers and forts gain increased damage.
Borussian Myth: Enables the Imperial upgrades for all units but increases the cost of the upgrades by 100%.
Blood and Iron: Adds an experience trickle option to your factories
Gründerzeit : (repeatable) Ships a factory Wagon. Build limit set to three.
Kleindeutsche Lösung: (repeatable) Sends a Fort wagon and disables Großdeutsche Lösung.
Gro ßdeutsche Lösung: (repeatable) Sends a shipment of Austrian Jaegers and disables Kleindeutsche Lösung.
Realpolitik: (repeatable) temporarily reveals all enemy units on the map.
Home city cards:
-Age I
Edict of Potsdam: Allows the church to be built in age I. The church can now train up to 5 settlers.
Der Alte Fritz : Improves the Explorer in combat and gives him a canine companion. Gives a small healing aura to the explorer.
Hohenfriedberger Marsch: Increases Grenadier Health by 15% and allows them to be built in the barracks.
-Age II
Miracle of the House of Brandenburg (church card):
Prussian Thrift(II) Unit shipments contain extra units. Older unit shipment gain even more bonus units. Reservists and Landwehr can no longer conscript or decommission.
Devastation of Brandenburg (III) Ships a number of Guard Pikemen.
Morta la Bestia (IV) Ships a large number of Russian Cossacks.
Der Große Kurfürst: Musketeers deal bonus damage to mercenaries and their build limit is increased by 5.
TEAM Heavy cavalry hit points: Heavy cavalry get +15% health
Grenadier Damage: Increases Grenadier's damage by 15%
Urban Warfare: Landwehr garrisoned in outposts or Town centers greatly increase the damage dealt.
Leibgarde : Increase Musketeer health by 15% and increase their build limit by 5.
Canton System: Town centers can now call Landwehr instead of Militia.
Preußische Tugenden: Gain increased experience from defeating enemy units.
Kriegsakademie: Ships 5 Musketeers and increases their build limit by 5.
-Age III
Polish Partitions: Every town center spawns a number of Polish villagers. This card resets upon age up.
Soldatenkönig : Increases the Musketeer build limit by 10, Musketeer and Grenadier upgrades are greatly reduced in cost and research instantly.
Iron Ramrod: Prussian Musket armed infantry get +20% damage
Kartoffelbefehl : Farms gain a small food trickle when worked to maximum capacity
Teutonic Legacy: Hussars deal increased damage to enemy cavalry.
Freikorps: Reservists can now conscript into Schützen instead of Landwehr.
Neuchâteller recruits: Ships 10 Musketeers and increases their build limit by 10.
Krümpersystem : Removes the cost of conscription for Reservists.
-Age IV
Lange Kerls: Increases the range of the Grenadier's attack and decreases their build time.
Prussian Cavalry drills: All Prussian Cavalry get +15% attack and health
Dreyse Needlegun : Increases the rate of fire of all Prussian musket armed infantry but slightly reduces their range.
Prussian Infantry drills: All Prussian Infantry get +15% attack and health
Stechschritt : Landwehr, Musketeers and Grenadiers gain increased movement speed.
Military Tradition(1000 food, 1000 wood, 1000 gold.): (Repeatable)Reset all Military shipments. Cost increases by 100% each time this card is send.
Krupp Eisenwaren: Increases the production speed of heavy cannon.
Thoughts and comments? New ideas?
I've chosen to not use specific numbers often as that is in the realm of balancing, I am ofc unable to playtest anything.