Hello everyone to my topic
I would like to share with you an idea that has been on my mind for a long time. Well, my dream would be a game mode based on the conquest of the world on the map - somewhat reminiscent of games such as Total War or Europa Universalis, etc.
Of course, AoE 3 is not designed as a "grand strategy wargame" game. My assumptions are fully adapted to the AoE 3 gameplay.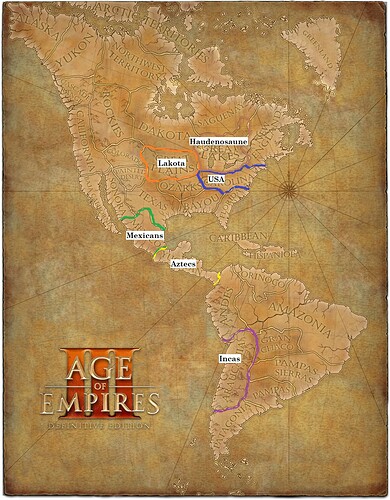 The map above is an example of what a game mode could look like. Each civilization starts the game with one starting map as its starting region. Each starting region generates coins, food, wood and XP. How many resources you have influences the beginning of each new conquest. Each map has assigned civilizations with which you will have to compete for influence. Diplomacy would be simplified to declaring wars and making alliances (through resources). XP would affect the number of available alliances and "Regions". Too many regions with too few XP can be fined with resources. This mode starts at Age 1 "Explore" and new Ages are unlocked as time passes (maximum Age to Age 2 available at the start of the game). Each higher Age is unlocked after each new century. The game lasts from 1400 to 1900 - each new conquest of the map causes time to pass by a decade (+10 to the year of the game).
More ideas later…
Please share your opinion on my idea. I'm counting on your ideas