GAME INFORMATION
GAME BUILD

#:

101.102.30274.0 (

#95810

)
GAME PLATFORM: Steam
OPERATING SYSTEM: Windows 10 (My friends also have Win10)
ISSUE EXPERIENCED
The game shuts down with a critical error. But what kind of error is not written.
FREQUENCY OF ISSUE
100% of the time / matches I play (ALWAYS)
(Every time, after the game has passed 20 minutes and we, together with the AI, move into the castle age)
REPRODUCTION STEPS
The steps will not lead to a guaranteed critical error, but the game then turns off without exceptions, at least for one of us. (Sometimes the game is turned off at the same time for two, sometimes only one)
Here's the steps to reproduce the issue:
3 people and 4 AI are playing against each other. Map size: max. Map Type: Yukotan. A truce of 50-60 minutes.
The presence of nations from the latest DLC
We develop our civilization within 20-25 minutes of playing time, after which everyone begins to move into the Castle Age
IMPORTANT: Creation of the Church
Start interacting with her: creating a monk or putting a relic inside
At some point, the game turns off for 1-3 people with a critical error
Addition: we realized that the game can turn off when interacting with the Church, only for 10 error
EXPECTED RESULT

What was SUPPOSED to happen if the bug you encountered were not present?
The expected result? A calm game in which we will have a confrontation and beautiful battles
IMAGE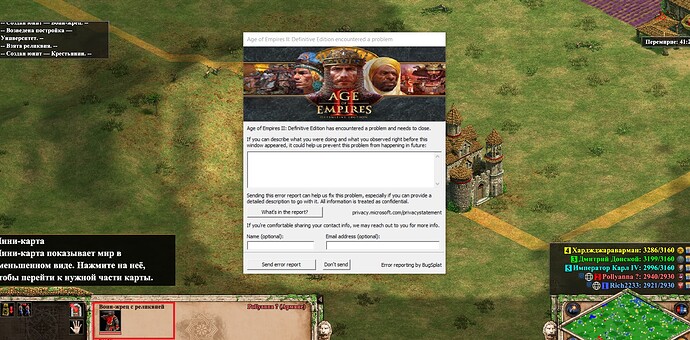 Behind the error window, an Armenian monk put the relic in the Church and at that moment the game crashed
GAME FILES (SAVE / RECORDING)

Attach a SAVE GAME (.aoe2spgame) or GAME RECORDING (.aoe2record) of the match where you encountered the issue. Link it below if using an external file service.
SyncMandatory is being logged
UnhandledExceptionResponse_BugSplat
UnhandledExceptionResponse_BugSplat: IsSuspendingOrResuming() = false
UnhandledExceptionResponse_BugSplat: DisconnectRelicLink()
Only LAST Replay: (Because we completely reinstalled the game, in the last game we were already two against three AI)