GAME INFORMATION

These details are CRITICAL; DO NOT skip them or your issue may not be reviewed.
**GAME BUILD

#:

**Latest build after relic hotfix - 12626487
GAME PLATFORM: Steam
OPERATING SYSTEM: Windows 10
ISSUE EXPERIENCED

DESCRIBE THE ISSUE IN DETAIL (below). LIMIT TO ONE BUG PER THREAD.
Constant freezing/lagging for a few seconds, then the game has to speed up to catch up to real game time.
Have previously played for 2 years without this issue, so do not believe it is anything on my side, has only occurred since latest patch
FREQUENCY OF ISSUE

How often does the issue occur? CHOSE ONE; DELETE THE REST!
100% of the time / matches I play (ALWAYS) (online specifically)
REPRODUCTION STEPS

List CLEAR and DETAILED STEPS we can take to reproduce the issue ourselves… Be descriptive!
Here's the steps to reproduce the issue:
Play ranked online match
See lag
Also In unranked lobbies, have noticed server ping shows fine initially, however maybe 30 seconds after joining a lobby, my ping suddenly jumps up extremely high
EXPECTED RESULT

What was SUPPOSED to happen if the bug you encountered were not present?
No lag while playing
IMAGE

ALWAYS attach a PICTURE (.jpg, .png, .gif) or VIDEO (.mp4, YouTube link) that highlights the problem.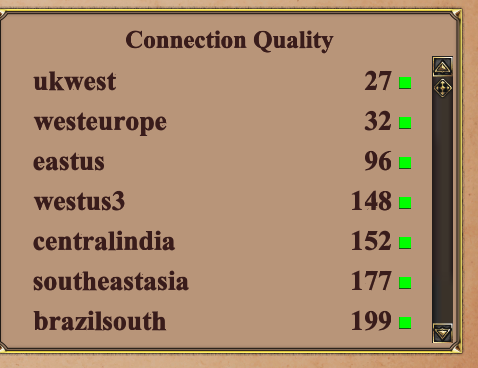 However shortly after will jump from anywhere from 500-1500 ping!
Have linked a small video here showing what happens as well (sorry about the drumming video playing in the background). It happens 13 seconds in, and does this throughout the game constantly
Video Link
GAME FILES (SAVE / RECORDING)

Attach a SAVE GAME (.aoe2spgame) or GAME RECORDING (.aoe2record) of the match where you encountered the issue. Link it below if using an external file service.
Recordings do not show the issue but have linked to one