GAME INFORMATION
These details are CRITICAL; DO NOT skip them or your issue may not be reviewed.
GAME BUILD

#:

6421374
GAME PLATFORM: Steam
OPERATING SYSTEM: Windows 8
ISSUE EXPERIENCED
DESCRIBE THE ISSUE IN DETAIL (below). LIMIT TO ONE BUG PER THREAD.
While playing a MP game, the game becomes super laggy (computer processing issue, not a network issue), with a super-low FPS and stuttering audio. After 10 seconds or so of this, it usually recovers, and "catches up" to the server version.
I've only managed to complete 1 game without force-quitting AOE 2 DE, and in this case it remained in this stuttering / laggy state until I reached the main menu and then quit the game.
FREQUENCY OF ISSUE
How often does the issue occur? CHOSE ONE; DELETE THE REST!
100% of the time / matches I play (ALWAYS)
REPRODUCTION STEPS
List CLEAR and DETAILED STEPS we can take to reproduce the issue ourselves… Be descriptive!
Here's the steps to reproduce the issue:
Set up a 1v1 MP ranked match
Play as usual (I typically play on Arabia, have tried various civs)
EXPECTED RESULT
What was SUPPOSED to happen if the bug you encountered were not present?
Game should not stutter / lag
IMAGE
ALWAYS attach a PICTURE (.jpg, .png, .gif) or VIDEO (.mp4, YouTube link) that highlights the problem.
AOE 2 DE is in red below: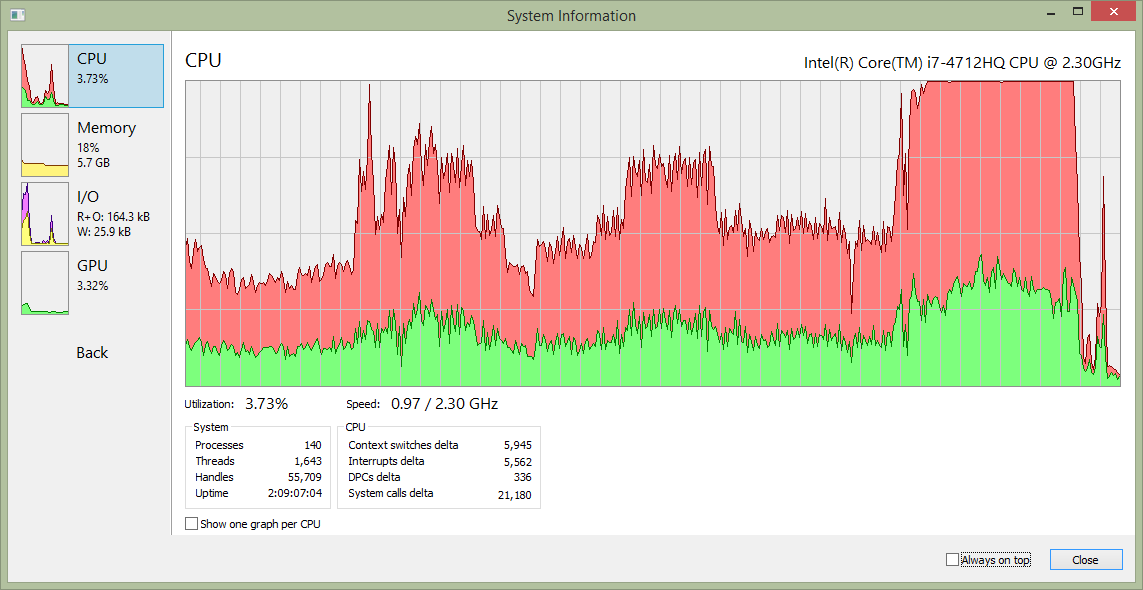 Split by CPU:

GAME FILES (SAVE / RECORDING)
Attach a SAVE GAME (.aoe2spgame) or GAME RECORDING (.aoe2record) of the match where you encountered the issue. Link it below if using an external file service.
MP Replay v101.101.46295.0 @2021.04.28 191934 (2).aoe2record (801.2 KB) MP Replay v101.101.46295.0 @2021.04.26 215001 (2).aoe2record (1.7 MB) MP Replay v101.101.46295.0 @2021.04.26 211651 (2).aoe2record (1.4 MB)
If helpful, happy to take a video of the occurrence and share it (can I upload it here?)