GAME INFORMATION
GAME BUILD

#:

100.13.58326.0
GAME PLATFORM: Steam
OPERATING SYSTEM: Windows 10
ISSUE EXPERIENCED
Game crashes with error message:
Out of video memory
Some particle effects will not display properly
I am running the game on NVIDIA RTX 3070. Considering that is way above the game's system requirements, it seems unreasonable for the game to crash this way.
FREQUENCY OF ISSUE
50% of the time / matches I play (FREQUENTLY)
REPRODUCTION STEPS
Not quite sure. Occurred after 95 minutes of an 8-player FFA match on Large Unknown. Match length likely a factor.
EXPECTED RESULT
Not crash, so that I can play the game.
IMAGE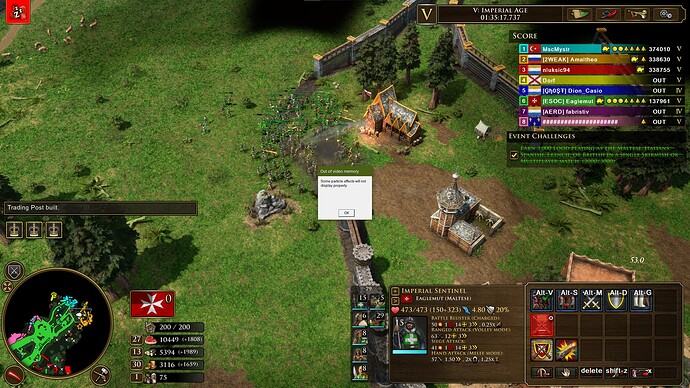 GAME FILES (SAVE / RECORDING)
Unknown FFA crash.age3Yrec (18.4 MB)