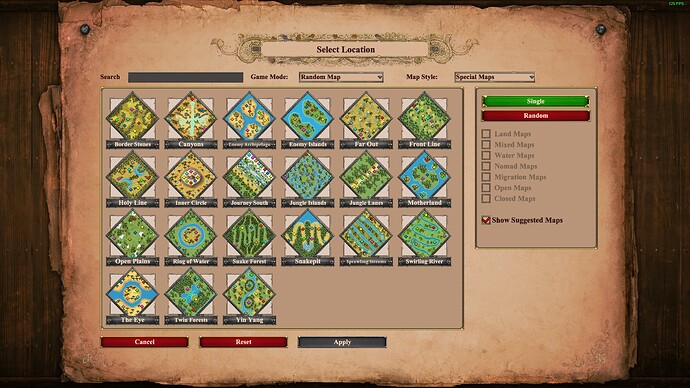 When you start up a match and you choose your map, you can find maps that aren't listed under the usual ones you'd normally see, that aren't Arabia, Arena, Nomad or whatever else you come across in ranked matches.
These "Special Maps" are maps with intentionally-bizarre generations that don't have seeds as varied as regular maps (if they have different seeds at all) but make up for this with very interesting themes and spawns that make for creative strategies, not unlike what you might see in the maps featured in pro tournaments.
Because you can freely select these maps for Random Map gameplay, and that a fair few of them are already similar to existing maps (including ones already with odd designs, such as Hamburger, Socotra, Sandbank & Coastal Forest), I believe that some of these Special Maps should be made available for ranked matchmaking.
Discussions about the ranked map rotations have been prevalent over the past several weeks, culminating in TheViper being the one who was chosen by the developers to select the maps in today's rotation, and so I'd like to capitalize on the subject by bringing to mention the Special Maps since, with a bit of tweaking for balance & variety's sakes, I can see the majority of these maps being fun selections for those who want to play different maps while toying with different build orders for all the differing situations they might find themselves in.
They're in the game itself and are just sitting there, played only by the rare players who know they exist; they have a ton of potential.