I) Cumans need bracer
That Cumans should get bracer isn't a new idea (see The Cuman Kipchak - An Analysis - #29 by AoE2and3fan), but it's a good and probably right idea nonetheless.
The basics haven't changed :
Unlike all the other weakest Arabia civs, Cumans don't even have a great navy, actually they probably have the co-worst in the game (with Aztecs, since always an awesome Arabia civ., even though they might have been nerfed too much by now).
Admittedly, Burgundians aren't the greatest naval civ., but it is by no means bad (elite cannon galleon, fast fire ship and galleon with bracer! The official naval civ. Portuguese doesn't even get all that) and they also desperately need a buff.
1v1 Arabia all elo :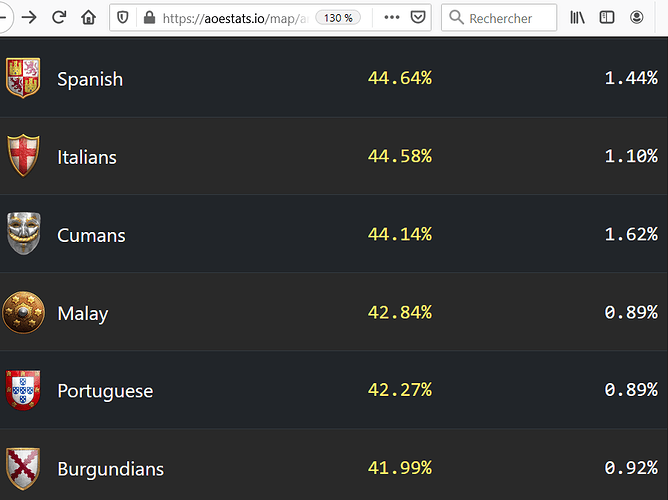 1v1 Arabia 1650+ elo :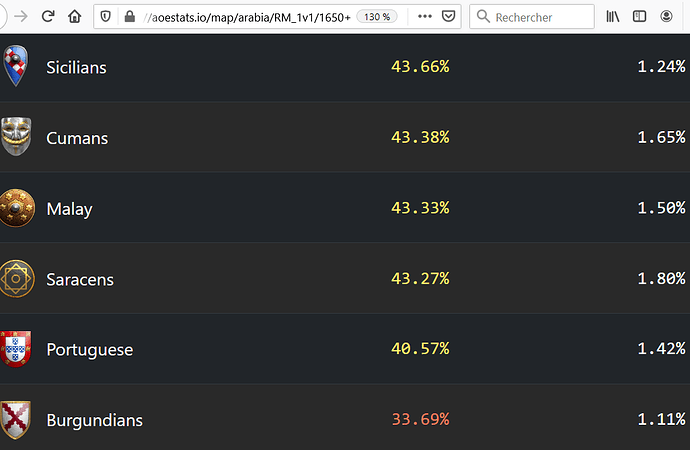 The Cumans are the only civ. with an archer UU to lack bracer which feels wrong. The devs clearly feel the kipchak is still a great unit, as it even got nerfed again not long ago, therefore the kipchak's base range could be reduced to 3 (like the mameluke) to offset the bracer impact. The kipchak would get worse in Castle Age, which is its current peak, and stronger in imp., when it currently falls off pretty badly.
Bracer would also mean that Cuman cavalry archers become a serious thing. Plus it would add a new flavour to the already existing strong CA civs. We now would have a cav. archer with more speed ! Steppe husbandry would actually become meaningful for cav. Archers! The Cuman CA are still going to lose to the top-tier CA civs (Huns, Turks, Magyars, Tatars, Mongols if there wasn't the even better mangudaï…), so no meaningful worries the Cuman variant would get OP.
II) Burgundians (desperately) need bloodlines
It's a no-brainer Burgundians need a serious buff.
Bloodlines may seem big, and it indeed is, but one has to remember that lacking bloodlines weakens the Burgundian late game significantly. One has to think about the hussar-line as well here. (The cavalry UU would have to lose 20 HP like other bloodline civs).
Another civ. can currently field better heavy cav. in Castle age without the superior unit upgrade! Lithuanian Castle age knights with three or more relics beat Burgundian imperial cavaliers, which seems really off. So the Burgundian power spike should be completed by guaranteeing them the best Castle Age heavy cavalry no matter what.
Lithuanians will still have the game's strongest heavy cavalry with 2+ relics. (In my opinion the cheap leitis w. a minority of 2 relics is even preferable to a paladin with 4 relics, as the leitis two-shots an arbalest like a huskarl or three-shots a halberdier like a cataphract).
So it will become a typical AoE tradeoff. If the player thinks he can win in Castle Age with heavy cav., Burgundians are simply the best. If he however thinks the game will go late, Lithuanians (or Franks) are preferable.
Burgundians are arguably a very unique civ. within AoE II already. So I think a traditional buff through a tech tree change is preferable to a new bonus.
III) Bonus – Sicilians
I'd say the serjeant costs like the berserk or woad raider 65f, 25g and the donjon 50w, 150s.