ICONS
There are hidden bonuses with some units in the game, but directly, we get the following icons to express multipliers in units stats, like it shows here:
Yet, there are a few important ones without icons.
---
Now as for the simplification part, as we see below, it's a tad unnecessary to show the infantry and heavy infantry tag for the Sowar, as it does the same ammount of x1 damage at them in the end.
So now that we have the light infantry tag, why not just use that one showing a x2 and reduce the clutter?
x2

---
It becomes far more prominent with some units than others (Especially the ones that counter cavalry, as they have to show the shock infantry tag as well).
Falconets as an example have 2 lines of attack, one for buildings and one for units, but same as the flaming arrow it could be reduced to 1 line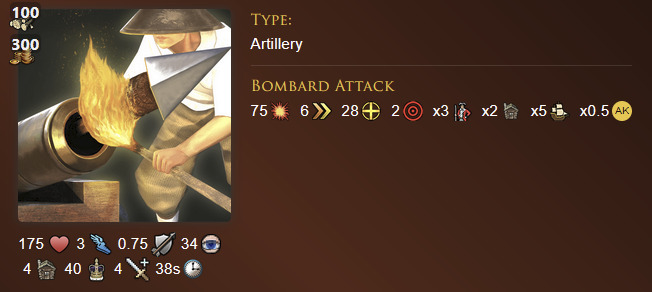 ---
It would be nice for the stat nerds like meself, if we could expand the Stat UI in the configurations, like so: