GAME INFORMATION
These details are CRITICAL; DO NOT skip them or your issue may not be reviewed.
GAME BUILD

#:

V. 100.12.20322.0
GAME PLATFORM: Steam
OPERATING SYSTEM: Windows 10
ISSUE EXPERIENCED
Deck in the Home City is behaving strangely. Its getting reset while playing "Story Mode" (The Asian Dynasties). It also shows Card in the "Current Deck" even when no cards are selected. "Clear" button also does not works. Default deck is behaving same as well as new deck created by me is also experiencing the same issue.
FREQUENCY OF ISSUE
How often does the issue occur? CHOSE ONE; DELETE THE REST!
100% of the time (ALWAYS)
REPRODUCTION STEPS
List CLEAR and DETAILED STEPS we can take to reproduce the issue ourselves… Be descriptive!
Here's the steps to reproduce the issue:
Play "Story Mode" (The Asian Dynasties).
Select new cards.
Built a Deck.
Proceed with the next mission.
Issue starts appearing.
EXPECTED RESULT
Built Deck and Card selected remains stable in subsequent mission of Story Mode" (The Asian Dynasties). The Deck shows same number of Cards as is selected.
IMAGE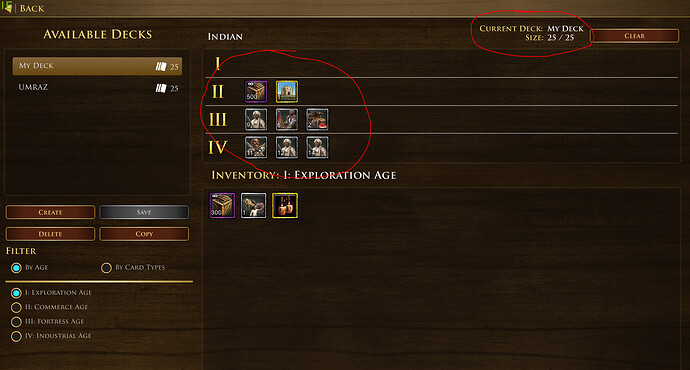 GAME FILES (SAVE / RECORDING)
*Attach a SAVE GAME (.aoe3Ysav) or GAME RECORDING (.aoe3Yrec)
While attaching I am getting a message that "New user can not upload attachment".