Alright so you all probably heard the pros discontent with monk conversion RNGs in competitive age of empires II. Basically the common complaint its that the RNG of the monk is unfun to play against and to play with.
Because there are a lot of games in which you're depending on those conversions, now, we can all say that "if you're depending on monk conversions you probably dont deserve to win the game" and while that is true, the scenarios in which monk conversions can turn the tide of battles for better or for worse happen more often than you'd think.
To adress this, I already thought of a couple ideas. First one:
-Make monk conversion a fixed "playlist", best way to explain this is with an example: the 1st conversion of every monk will always be instant, the 2nd will always take the longest time possible, the 3rd takes half the time and so does the 4th, then it is instant again and repeat. This makes it so that every monk investment is pretty much always going to pay for itself if you're paying attention and you're converting easy-to-convert units.
-Make monk conversions tied to player score, my idea of this is that the player thats behind in score could have easier conversions and the further behind you are, the easier conversions get. Now this raises a lot of questions, first the balancing, what stops a player from just massing monks when behind? Well, if you're behind its obviously going to be harder for you mass monks than to your opponent, and your opponent can easily make scouts if he realizes, because he's ahead. Another matter that makes me like this idea is that monk conversions are based on faith right? Well historically difficult situations are fertile grounds for faith, so it makes sense.
-Another way we could go with this is tie the conversions to something else, the problem with monks is how RNG based and unreliable they are. So making it less RNG even if slight will always be a step in the right direction imo. Make the amount of relics you have strengthen monk conversions, make a momentum based system where, the more conversions you get, the easier it gets to convert.
Obviously new ideas are welcome as long as it stays friendly.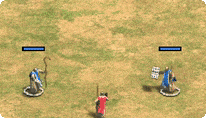 WOLOLO