Claim #1: Meta is a single-dimensonal manifest of pseudo aggression
Aka Skirmishers meta, even during the KOTD tournament, no matter how games begin, no matter the civ match up, no matter the map generation, it always involves a defensive Archery Range with a production of the most passive-aggressive unit- the Skirmisher. Masses of Skirmishers throwing spears at each other, buying time for either of the opponents to establish walls and farm eco. No real strategical progression of the game nor gaining any map control. Status quo of nothingness.
Claim #2: Arabia isn't the Arabia we've been playing for 20 years.
I've been writing quite a lot about the Desertification of Arabia, including comparisons between the Different Maps, getting into details regarding the major parameters, the fact we have about 40% less trees, Larger Distance From the TC, and overall the amount of woodlines per player/map.The common misconception is that AOC Arabia was extremely open, practically it's wrong, though the terminology of openess/closeness is too reductive to begin with. Arabia had much less woodlines, and therefore less wallable, yet more trees. (per woodline)
Clain #3: The evolution of the Meta is highly correlated to the desertification of Arabia
Arabia has now tiny woodline that reward by default every Archery Range play, both defensively and offensively, the game has been stripped of its strategic aspect once a tactic becomes mandatory. Multiple tiny woodlines that can be easily harrased by Fletchingless Archer, that just call for a wall to connect between them. Followed up by a mass TC Castle Age (unless you were forced to build a defensive tower), most of the voluntary 1 TC strategies has been brought to extinction, no more 1 TC Arbalester, even Hoang goes mass Skirms these days. One is simply busy with his own unrelenting survivablity- lacking the time and resources to establish a strategy, a gameplan, an actual power spike.
Suggestion: More Trees (per woodline). Less Woodlines.
I modified Arabia to become a hybrid between AOC Arabia and the current KOTD Arabia we have, for maximum strategic diversity while increasing the inablity to fully wall a quarter of the map with a chain of tiny woodlines. This won't nerf the current Militia into Archers meta directly, but would enrich it with more proactive Scouts play that doesn't rely on a Skirmisher follow up necessarily, and would even bring back the viablity of Tower Rush due to lack of multiple wood options and the fact resources are closer to one another. FC will still be hard to be pulled off and most importantly the midgame will be free of the mass TCs enslavement, having a reliable long-term-ish woodline.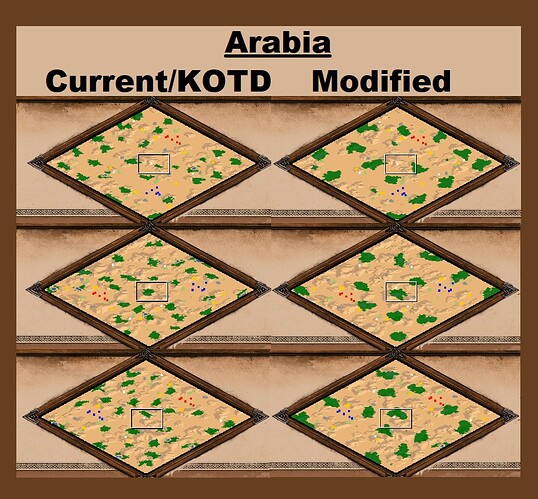 Thank you for reading! would love to hear what you guys think, it means a lot.