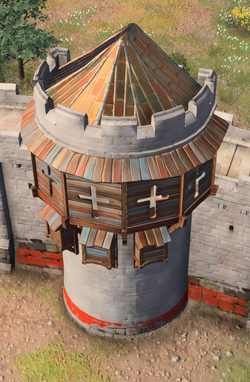 The Stone Wall Tower
Such a cool building and concept absolutely buried by Relic. After the problems these brought in the first season it got hit hard by the nerf hammer to the very point of absolute inviability.
Stone walls, wooden walls, fortified wooden walls, outposts, stone towers, keeps and landmark defensive and keep-like buildings were fine tuned over the seasons to be viable and try to not be OP or UP.
Even if just situational, every one of these can be seen used in AoE 4 games.
However, Stone Wall Towers were left in the absolute dark and totally forgotten by the devs. Even stuff like wall defending units it's something that didn't pan out from the get go but at the very least we occasionally see it in some battles. But Stone Wall Towers? Nah ah. They became a legend.
Should Relic try to give them some use and bring them back by balancing them just like they did with all the defensive structures? Or should they just leave them in the dark forever?