I understand it's a design decision to make the new civilizations more disctinct by making the player unable to build the standard monastery, and forcing him to make this unique building instead.
But, as I see it, the Fortified Church is an upgrade in every sense over the monastery, with the only counterpart being costing 25 more wood.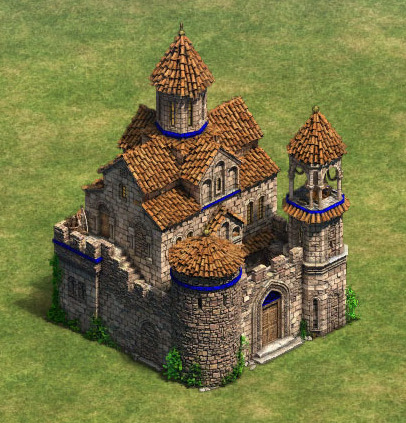 I like the idea of Fortified Churches, their implementation and purpose. My issue with them is that Armenians and Georgians had like… normal churches too. In fact, they had lots of churches in their cities and countryside.
The fact that monasteries are replaced by this unique building seems to imply a message of the kind of "Armenians and Georgians didn't have churches, no. They had cortified churches instead!", which is odd.
Given that Fortified Churches are an upgrade in every aspect over Monasteries, would it change things too much to have them as unique buildings occupying the same spot as the Caravanserai and the Donjon, and let the Armenians and Georgians have Monasteries as well?
The civ bonuses would still apply to fortified churches only, and Warrior Monks would keep being created there. In practical terms almost no one would choose to build a Monastery, picking the Fortified Church instead.
It is kind of immersion breaking when playing these civs to lack the ability of building regular churches.
In terms of work load for the dev team, we already have the central european Monastery (which is oddly inspired by the caucasian style) as a base model. It just needs a reskin to fit with their current set.
What do you think about this?