GAME INFORMATION

These details are CRITICAL; DO NOT skip them or your issue may not be reviewed.
GAME BUILD

#:

Version 101.101.62085.0 8752729 (latest patch 62085)
GAME PLATFORM: Steam
OPERATING SYSTEM: Windows 10
ISSUE EXPERIENCED
Since the latest patch the extreme AI will refuse to place a castle during castle age, the AI will still gather enough stone if it wants to make one, but it will not place it until it clicked to go Imperial.
FREQUENCY OF ISSUE
100% of the time / matches I play (ALWAYS)
REPRODUCTION STEPS
Here's the steps to reproduce the issue:
Make a game with Extreme AI vs Extreme AI with standard settings
Choose two civs that often will choose to make a castle in castle age (Like Italians, Mongols, Turks)
Avoid maps in which the AI will go to fast castle, choose something like Arabia, Serengueti, Kilimanjaro
Let them play normal, unless someone is ready to win in castle age, they will eventually move to 3 tc boom and those civs will likely want to make a castle, they will collect over 650 stone, but it will not place it until it click Imperial.
EXPECTED RESULT
They will make a castle as soon as it has 650 stone
IMAGE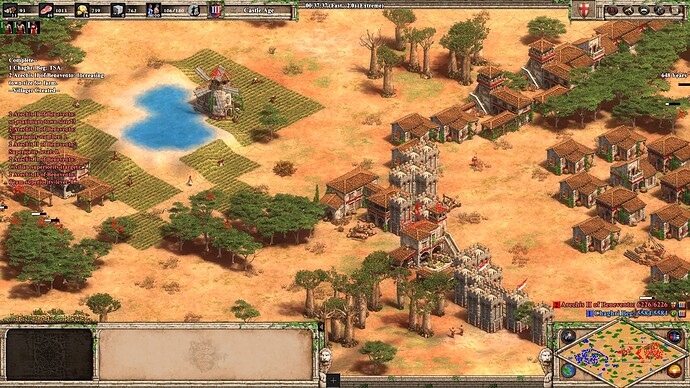 The stone is ready for the last 5 minutes, it waited until it clicked imp.
GAME FILES (SAVE / RECORDING)
Don't have one.
*