Little QoL things as these: I don't usually wall, but when I do, I wall like a madman. And it's beyond aggravating that AoE3 and AoM have a much better walling system that can connect to buildings. For a civ like Abbasid, not only is detrimental because the golden age bonus can't be connected over stonewalls, and as far as the rest of the civs, there are plenty of gaps that should easily be covered but the game doesn't allow it.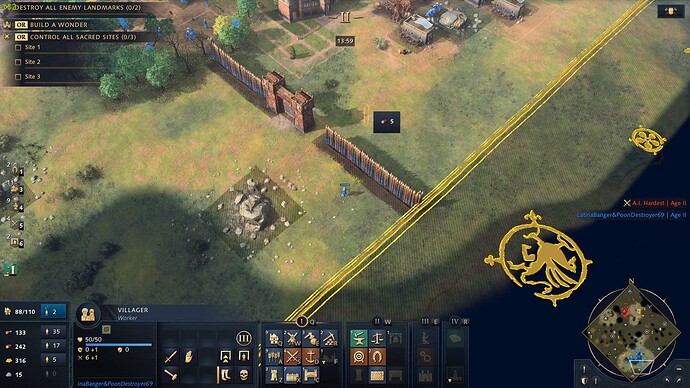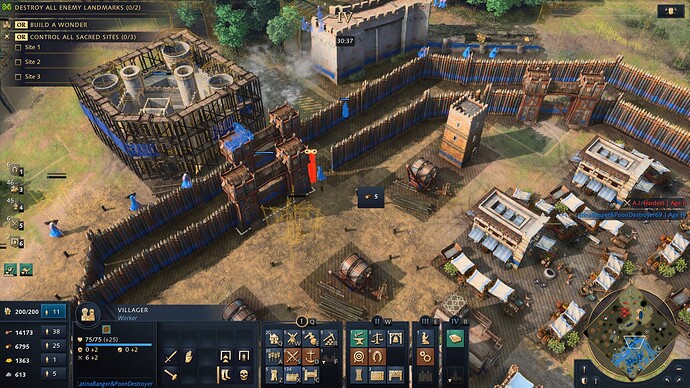 -Wonders do NOT count as landmarks, yet they're labeled as one and they should count as such. I was in a 4v4 in Boulder Bay, the game was 1:30:00 min long ++ and at the end, I built a wonder on the side island. Eventually they destroyed all of my team mates landmarks, and mine as well, but the game was over as a defeat because the Wonder didn't count as a landmark which makes no sense. It's a 12k investment, it should count as a landmark.
-Siege is NOT fun
The game trailer before it was released looked awesome. Trebuchets, units fighting on walls, THAT should be the focus of the game. That, and unit vs unit. Not siege vs unit.
A real life mangonel wouldn't be able to hit 10 dudes 100 yards away because they'd see it coming. And to me as a historian gamer, the historical innacuracies are beyond aggravating. Springalds if anything should be the infantry counter, not mangonels. There needs to be more ram/siege tower play. And even bombards, shouldn't be able to blast thru walls in 5 shots. Historically speaking, when the Ottomans besieged Constantinople and brought a bunch of guns including 3 massive bombards, each bombard was only able to get off around 3 shots A DAY. And it took weeks to months before a tiny little hole was made so infantry could push in. Not to mentioned the miner work.
The game can't be fully historically accurate, but as gamers, we'd have way more fun if game was fully unit combat and siege engines actually doing what they actually did, which was anti structure jobs. I'm fully fine with a bombard steamrolling a house. Not a wall. And there's plenty of historical records of how gruesome, taxing, and almost impossible it was to blast thru a well built wall. If anything, trebs should just counter keeps/castles (not walls, because a treb in real life won't make a dent on a stone structure) as they did in real life (by tossing disease and poisoned corpses over walls and force people to surrender. And bombards, sure they can now blast thru stuff, but it should be significantly much more difficult.
-The maps for 3v3 and 4v4 are too large.
In 1v1 and 2v2 I prefer to have very early combat. And on a 4v4 map, facing x4 china, by the time my French knight for instance is out right at 4:42-4:45, it's 7 min by the time he's made it all the way halfway across Africa to the enemy side of the map. Therefore, 4v4 games become fully boomer and turtle games. This seriously needs to get addressed. I'd say, compile the same amounts of resources of a 4v4 map, and make players spawn much closer together. Like the 2v2 and 3v3 map could easily house a 4v4 match, if resources are compiled. There's soooo much open space like, with nothing around just plain space. Please make the maps smaller.
And just tossing it out there, this is coming from a top 100 aoe3 player. I'm reaaaly trying to get into aoe4 but these little things plus the historical inaccuracies and mechanics, and above all map size, to me I rather just play idk, Northgard for goodness sake. And on a Thurs night having only 3500 players online, for a game with the promotion it had, is not a good look
Also, CANNONS ON WALLS!!! why aren't we able to place our culverins on walls? is such a well recorded historical fact, you PUT CANNONS ON WALLS. not outside the walls where they're vulnerable. why cant i place my culverins on walls to DEFEND my city, it's almost like what caught us gamers' eyes was the whole castle/city defense gameplay, but the game is stirring away from it. i really hope u guys stir this back into the massive potential this game has, which is epic castle/wall defense, unit vs unit gameplay.
NOT siege vs unit, siege dominating units, and trebs which throw rocks, magically blast thru a wall. Siege units should all take idk, 10-20 seconds to setup. when siege, is because the player has chosen a strategic spot and NEEDS to defend that spot with UNITS. so that the siege units can do their work. the fact trebs springalds and bombards set up at the same speed in which an archer reloads, lmao. u see the prob right?
Imagine if instead, it was all unit vs unit, and if u bring a treb or bombard, it takes 20 sec for that siege engine to the build. so now, it's about controlling the siege and defensive spot. that would be more fun. And again, walls should be able to take 20+ cannon hits before they break, and quite frankly, nearly immune to trebs. trebs should be a counter to castle, or such. I really wish in age 2 and 3, it was all ram and siege tower push. adn the siege tower, should LOCK to the wall, creating a newpathway for foot units to move in and out. not as a transport unit. just my thoughts man
i actually read a lot, but here's some easy to understand videos by experts: