I am not Esports player, or does math for playing videogames, this is a feedback from a very casual player who has life responsibilities and plays game to relax and chill.
Visible Hotkey or Displayed Hotkey
Allow users to turn this on or off based on their preference from options. Helps new and returning players a lot. This should be supported officially by AOE DE as there are tons of mods that does the same thing, but with each update they get outdated and are abandoned often, you can just type hotkey and see the amount of mods that does the same thing, but all outdated or abandoned or causes icons to go missing.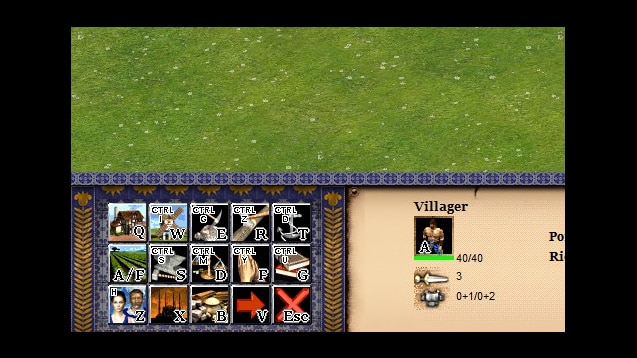 Better Pathfinding for resource collecting villagers
Villagers still get stuck while collecting resources, they often spin around or glitch around. Moistly happens near mining nodes and trees on the edges.
Better Pathfinding and Turning for Cavalry
Most time cavalry spins backwards for few seconds then moves forwards, this looks weird and wastes time. I don't know what is causing it, maybe fix the turning of Cavalry.
Manned Siege Equipment skins
Add operators to the siege equipment, like people who push and trigger the siege equipment. This can be a skin.
More Improvements to AI
Currently AI still cheats a bit because AI can control everything at a time and it is not limited by hands, mouse pointer and other peripherals like humans. Maybe have an AI that makes better counter units based on what player is bringing, instead of buffing up resources and spamming upgrades but still sends crap units to fight.
Add some life preservation mechanic, like withdrawing and playing a bit defensively, also builds walls and closes the gaps between cliffs. Since maps have fixed layout, these conditions can be easily added for each map, Assaults trade caravans, I haven't seen any of these things done by AI on hard AI skirmish. AI also hardly uses formation and sometimes sends solo monk to fight lol.
Stop Time Gating Event Objectives
I understand MS wants to drive up their engagement metrics by time gating, but I was not expecting these type of cheap tactics from MS. It makes AOE look like a cheap Korean or Chinese game.
No matter what, people are playing, that itself is engagement. Maybe change how engagement is calculated, instead of daily add it based on playtime a player does. why does it matter that when the player plays, the player is playing is what matters.
Working people like me don't have time to play videogames entire weeks or sometimes several months, if people like us want to chill and play over a weekend, allow that. Stop time gating events and adding a 20hr countdown to next objective of the event. Quality of the game speaks itself, people will play the game as it has high quality and good mechanics, stop forcing people to play.
Thanks and so far you guys have done a great job, keep up the good work.