GAME INFORMATION

These details are CRITICAL; DO NOT skip them or your issue may not be reviewed.
GAME BUILD 14.7908
GAME PLATFORM: Steam
OPERATING SYSTEM: Windows 10
ISSUE EXPERIENCED

DESCRIBE THE ISSUE IN DETAIL (below). LIMIT TO ONE BUG PER THREAD.
A fog of war glitch apppears on the map when starting a game after having completed a match previously. It is present both on the map as well as on the minimap. Restarting the game seems to fix the issue temporarily. Extra zoom is enabled, issue persist both with and without asset preloading enabled.
FREQUENCY OF ISSUE

How often does the issue occur? CHOSE ONE; DELETE THE REST!
100% of the time / matches I play (ALWAYS)
REPRODUCTION STEPS

List CLEAR and DETAILED STEPS we can take to reproduce the issue ourselves… Be descriptive!
Here's the steps to reproduce the issue:
Start a game, either skirmish or online, on an African map (I don't own the European map DLC so I couldn't test)
Finish the game, either by winning, resigning or quitting.
Start a new game on a different map. Type of map does not matter. The glitched fog of war then appears, sometimes on a small portion of the map and sometimes over the whole map. Revealing the area with units or cheat codes seems to remove the glitch.
EXPECTED RESULT

What was SUPPOSED to happen if the bug you encountered were not present?
The unexplored area of the map (under fog of war) should be black under normal circumstances. The current issue makes it difficult to discern whether a part of the map has been explored or not.
IMAGE

ALWAYS attach a PICTURE (.jpg, .png, .gif) or VIDEO (.mp4, YouTube link) that highlights the problem.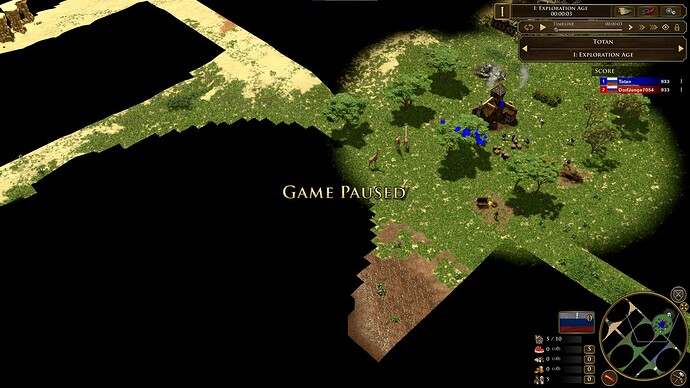 GAME FILES (SAVE / RECORDING)

Attach a SAVE GAME (.aoe3Ysav) or GAME RECORDING (.aoe3Yrec) of the match where you encountered the issue. Link it below if using an external file service.
*